Get the Top Swing Trade Alerts with
The Wagner Daily PRO
Best Service for Swing Trading Stocks—Since 2002
Are you tired of missing out on profitable trades because you don't have the time to constantly monitor the markets?

Do you struggle to find high-quality trade ideas?

Look no further because The Wagner Daily PRO gives you:
Stock swing trade alerts with preset ENTRY and EXIT prices:
Receive swing trade alert notifications to your email and phone
Exclusive Swing Trader Chatroom (now includes live trading mini-lessons)
LEARN while you EARN with swing trade picks, chart reviews, and live Q&A
Nightly stock swing trade report with pre-market watchlist:
Set your buy and sell orders outside of market hours; your perfect side hustle
Stock portfolio with risk management model:
Follow the MTG portfolio to properly manage risk in both bull and bear markets
SPECIAL BONUS - Relative Strength Stocks Watchlist:
Proprietary, pre-screened list of the best stocks for swing trading (weekly)
Watch the video above to find out more about The Wagner Daily,
then CHOOSE YOUR MEMBERSHIP option below:
Here's what our members are saying...
"In trading, you have to go your own way...never be a follower! I tried many subscriptions (before now) and I have to say Morpheus is
the most reliable, stable, efficient, and most fun to follow. Keep that good stuff going. Thanks Morpheus team!" - Edmund S.

"I am very much enjoying using the Swing Trader Chatroom. The input and feedback from the Morpheus team is invaluable.
Having others to interact with who are all wanting to improve their trading skills is very motivating." - Catherine O.

"MTG is the only active trading group I pay for. It's been a very good system for me. Thank you for the great content and education." - Kyle V.

The Wagner Daily PRO includes:
Live Swing Trader Chatroom
---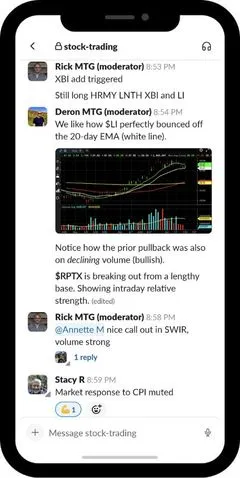 Swng Trader Chatroom is your exclusive live chat platform that provides you with real-time market insights, stock trade ideas, and tradng strategy support.

With Swing Trader Chatroom, you can log in at your convenience and see what you've missed, or engage as much or as little as you feel comfortable. You can use the chatroom to simply monitor the day's trades, or check in after-hours to stay up-to-date on the latest market developments.

Swing Trader Chatroom is professionally moderated by our team of pro traders with 45 years combined experience, who provide mini lessons, technical analysis, chart reviews, and more. You'll also have access to custom trade alerts and mobile notifications, so you won't miss the important stuff.

But the best part of Swing Trader Chatroom is the sense of community. You can share ideas and engage with other swing traders, all while learning from the pros. Don't miss out on this invaluable resource. Subscribe today and take your swing trading to the next level.
Exact entry, stop, and target prices
---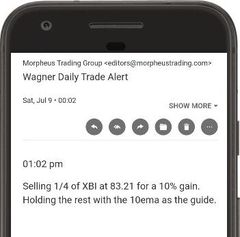 The Wagner Daily PRO is the premier stock picking service for busy professionals. Our team of experienced traders constantly scours the markets to identify the best swing trade opportunities, and sends out real-time alerts with exact entry, stop, and target prices.

With our service, you can easily place your buy orders and set auto exit strategies, so you can focus on your busy life while still profiting from the markets. And because our service is completely end-of-day, swing trading stocks has never been easier.

But we don't just provide the best swing trade alerts; we also offer ongoing support and education to help you succeed. Join the Morpheus family of traders and start profiting with The Wagner Daily PRO service today.
Morpheus Stock
Portfolio
---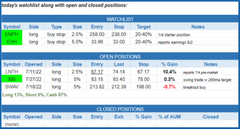 Are you tired of trying to navigate the volatile stock market on your own? The Morpheus Stock Portfolio is here to help. Follow a professionally-managed portfolio of swing trading stocks, with precisely sized positions for proper risk management.

Our team of experienced traders has developed clear guidelines for risk/reward and maximum risk per trade, so you can trade with confidence. Plus, you'll receive daily updates on the portfolio's performance, so you can stay informed and make informed decisions.

Don't let the complexity of the stock market hold you back. With the Morpheus Stock Portfolio, you can trade with a proven system that takes the guesswork out of investing. Sign up today and start seeing results.
BONUS!
Relative Strength Watchlist
---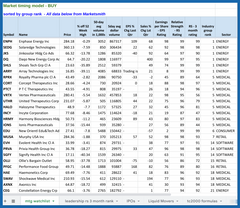 ntroducing the Morpheus Relative Strength Watchlist, the ultimate bonus tool for swing traders. Our pre-screened weekly watchlist includes the top trade ideas based on the Morpheus swing trading strategy, so you can focus on what really matters: making money.

Our professional analysts spends countless hours analyzing the markets and identifying the best trade setups. With the Relative Strength Watchlist, you can access their insights and get a head start on the competition.

Whether you're a seasoned trader or just starting out, the Morpheus Relative Strength Watchlist is an invaluable resource. Sign up today and start making smarter trades.