Shortly after the market opened on February 1, we sent an Intraday Trade Alert to subscribers of The Wagner Daily, notifying them of our swing trade buy entry into Direxion Shares Semiconductor 3x Bull ETF ($SOXL) after the opening gap higher and slight pullback. Later that afternoon, this blog post explained our buy entry at $37.46 through a few annotated charts.
Two days later, on February 3, we made a judgment call to sell $SOXL into strength. As such, we sent another alert to subscribers notifying them we were selling at the $41.40 area, thereby locking in a quick gain of 11% (3.95 points) on the trade. The 15-minute intraday chart below shows both our entry and exit points on this trade: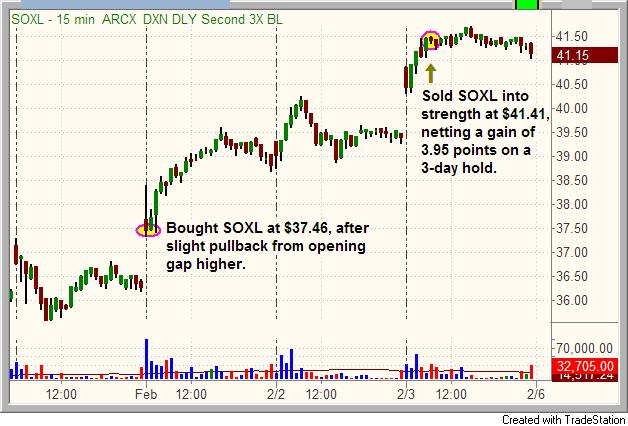 With our stock swing trades, we typically seek to net a gain of about 15 to 20% in price appreciation before selling into strength. With ETF trades, many of which are less volatile than individual stocks, we look for closer to a 10% gain, depending on the type of ETF. Therefore, the 11% gain in SOXL met that criteria.
What was not typical with the SOXL trade was the holding period. For most of the ETF swing trades under our trading methodology, we aim to hold trades for an average of 1 to 3 weeks. However, sometimes the move happens much faster, as it did with this trade. When that occurs, it means our original analysis was correct and we got a bit lucky by the move happening faster than expected. On such occasions, we take the profits quickly and move on to the next trade, rather than risking sitting through a pullback. This is particularly true given that the main stock market indexes are approaching extreme near-term "overbought" levels.