Massive home shopping demand rocketed Amazon shares to new highs during the coronavirus lockdown, but recent bullish price action hint at even more monster gains ahead. Here's why…
It has been an interesting year for Amazon ($AMZN), the mega household name with humble beginnings as an online book store just twenty-five years ago.
Fueled by an earnings-driven breakaway gap higher, $AMZN cruised to an all-time high in early February. However, the breakout did not last long.
Amazon tumbled alongside of the broad market during the coronavirus sell-off from late February through mid-March. It was quite a nasty reversal that "shook the tree" and undercut almost a year's worth of prior lows.
Because fear is a more powerful human emotion than greed, stocks tend to take the stairs up and the elevator down. As such, it was not surprising that $AMZN gave back 25% in just 23 sessions.
Nevertheless, the impressive bullish reversal off the March lows that followed was a monster move:
As shown on the weekly chart of Amazon above, notice how $AMZN rocketed 40% higher to another fresh, all-time high just 20 trading days after bottoming in mid-March.
Building a base for the next breakout
Stocks can not go up in a straight line forever, and Amazon is currently going through a much-needed price consolidation to digest the recent advance.
$AMZN price action during the recent consolidation has been constructive, with only one lower weekly close during the past six weeks (which was met with support).
We also like last week's tight close on a bullish reversal bar. Lighter volume during the consolidation at the highs is also bullish.
The 10-week moving average (similar to the 50-day moving average) has not yet caught up to the price of $AMZN, but is closing in to soon provide support.
With tight consolidation after a massive reversal higher on the weekly chart, Amazon may again be setting up for another huge run after the current correction by time (consolidation) is finished.
Next, let's zoom in to the shorter-term daily chart of $AMZN for a closer look at recent price action: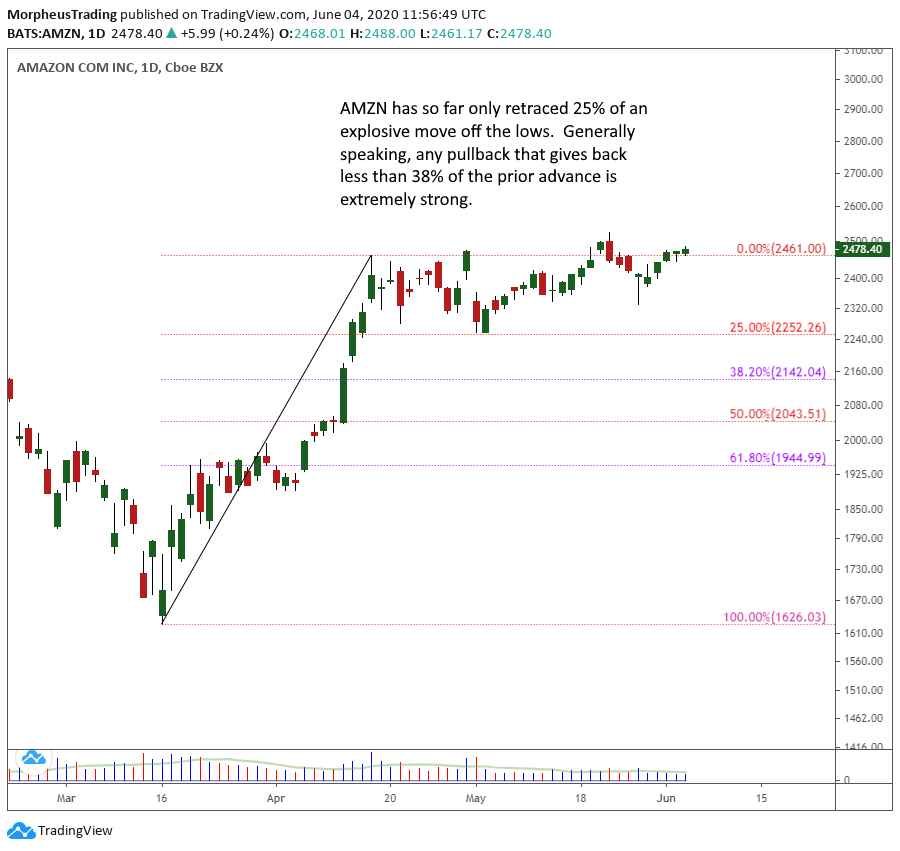 Since beginning its consolidation six weeks ago, notice that $AMZN has only made a Fibonacci retracement of 25% off the high of its last wave up.
This is another bullish sign, as any pullback less than a 38.2% Fibonacci retracement indicates a strong trend.
Our subscribers are already long $AMZN from the Wagner Daily buy entry on June 1. As always, we will alert newsletter subscribers of any changes to our stop and target prices of this bullish swing trade setup in Amazon.