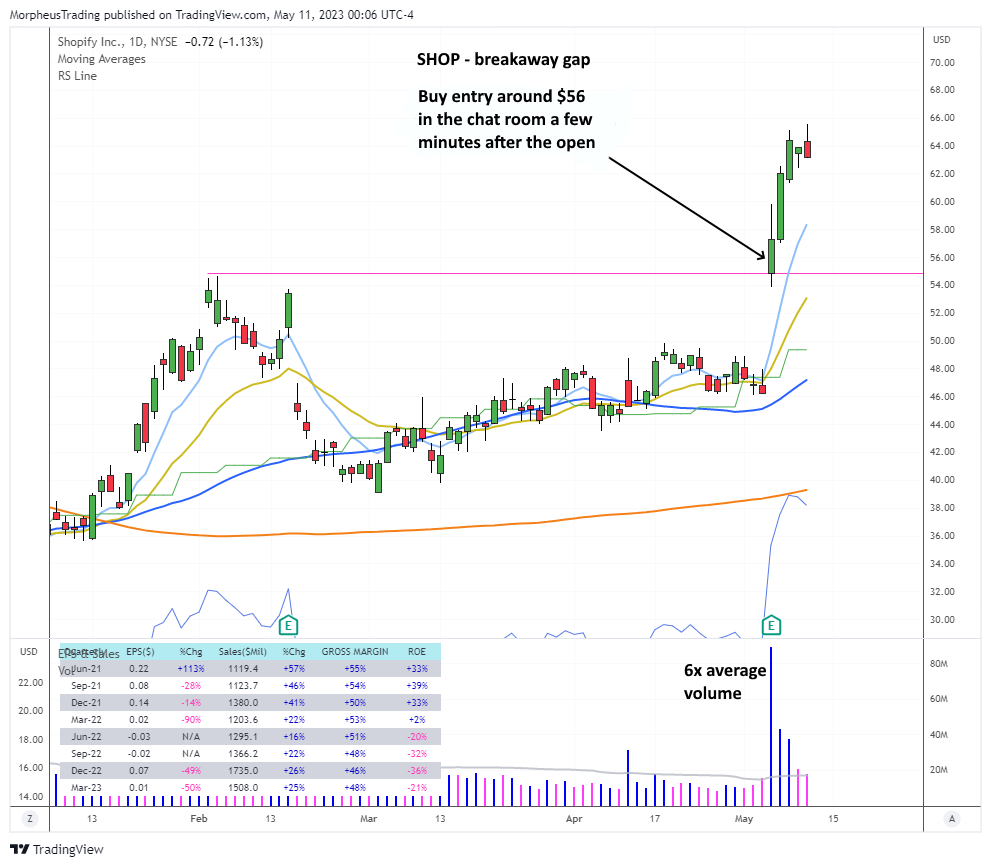 As the market stubbornly trades sideways, many traders are left scratching their heads, wondering where the next big opportunity lies. Fear not! Breakaway gaps can offer remarkable profit potential, even in this challenging environment. Here's how…
Do you find yourself staring at the stock market's sideways dance with a sense of frustration?
Are you longing for lucrative opportunities amidst the market's apparent stagnation?
It's time to shift your focus to breakaway gaps! These powerful price patterns have the potential to catapult your trading success to new heights.
In this blog post, we not only introduce you to the world of breakaway gaps, but also showcase the impressive gains achieved by members of our winning swing trade alerts service.
So, let go of your market woes and continue reading to discover the hidden profit potential of breakaway gaps.
Sideways market? No problem for breakaway gaps
The market's sideways trading pattern over the past month has created a difficult landscape for breakout attempts. However, breakaway gaps have managed to defy these conditions, leading to impressive gains for savvy traders who know how to spot them.
If you are unfamiliar, breakaway gaps occur when a stock opens sharply higher than its previous close, backed by massive volume, marking the start of a robust trend. This pattern most frequently occurs during earnings season, when stocks with strong results form explosive opening gaps. You can learn more about this in our previous posts: Gap Trading Strategy and Breakaway Gaps.
In the recent earnings season, stocks like $SHOP, $CELH, $ONON, $UBER, and $LULU have exhibited stellar performance, with buyable earnings gap-ups leading to explosive results. These stocks have outpaced the broader market, demonstrating the power of breakaway gaps in action.
Profiting with Real-Time Alerts: A Closer Look at the Charts
Our live Swing Trader Chatroom has been instrumental in identifying breakaway gap opportunities, enabling members of the MTG tribe to reap substantial profits. For example, Shopify ($SHOP) has exploded higher since we alerted Wagner Daily subscribers to its gap-up less than one week ago. Let's take a closer look.
Shopify ($SHOP)
We first highlighted $SHOP as a buyable stock, just a few minutes after the market opened, near the $56 level. Members who acted on this call saw the stock rally an impressive +18% in just a few days, before the price pulled back back yesterday: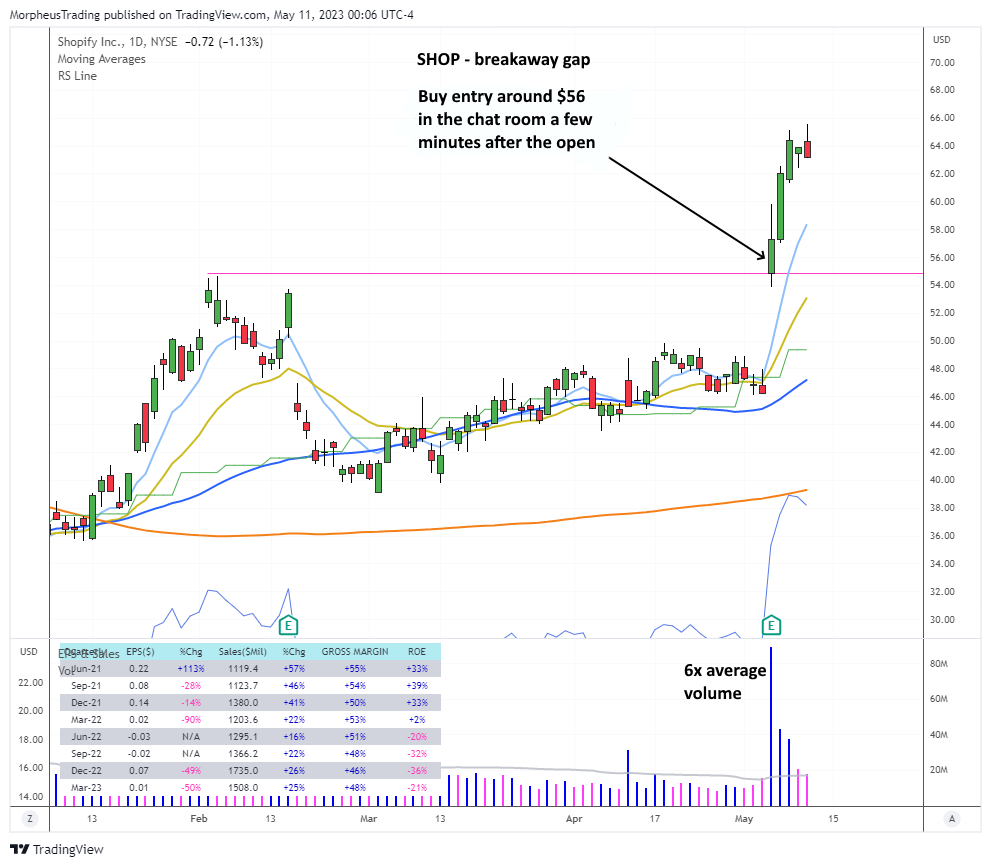 Celsius ($CELH)
Yesterday (May 10), we alerted chatroom members to another profitable opportunity in Celsius ($CELH), which responded to a strong earnings report with a +10% breakaway gap on massive volume.
As shown below, we mentioned $CELH as a potential buy entry around $124 (just a few minutes after the open):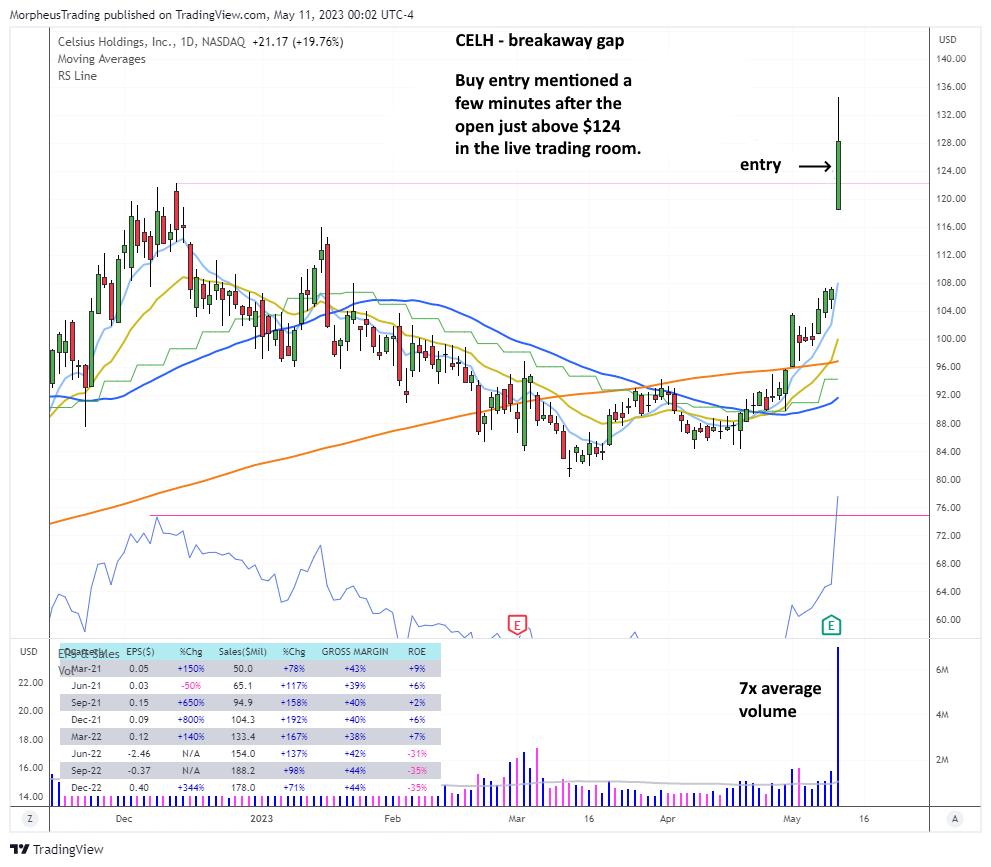 If you missed yesterday's opening breakaway gap in $CELH, don't be discouraged. You've still got plenty of opportunity for a potential buy entry. Just read about the 5 different ways to enter a breakaway gap (even after the initial gap up day).
Uber ($UBER) and Lululemon ($LULU) are two more recent breakaway gap success stories we recently alerted members to. On Holding ($ONON) has rocketed +28% higher since its breakaway gap just 7 weeks ago. Imagine the excitement of watching your portfolio grow as you capitalize on these explosive moves.
Join The Wagner Daily: Your proven pathway to trading success and an exclusive community
If you're seeking a proven and reputable resource to help you navigate the world of trading, look no further than The Wagner Daily. Brought to you by Morpheus Trading and in continuous publication since 2002, our exclusive swing trading service has helped thousands of traders unlock the potential for remarkable returns.
The Wagner Daily service was created by Deron Wagner, a best-selling author of trading books and a respected expert in the field. Under his guidance, you'll gain access to a comprehensive trading package that includes our exclusive swing trader chatroom, where you can engage with fellow traders, share insights, and receive real-time trade analysis. Additionally, you'll receive real-time trade alerts directly to your phone, ensuring you're always connected to the latest opportunities.
By joining our winning swing trade alerts service, you're not only investing in your trading success but also becoming a valued member of the friendly MTG Tribe. This close-knit community of traders offers invaluable support, camaraderie, and shared learning experiences, empowering you to grow and thrive in the world of trading.
Imagine being part of our next success story, generating impressive returns even in a sideways market! Trading with MTG is more than just an excellent side hustle—it's your gateway to potential financial freedom, backed by the expertise and reputation of a trusted industry leader, with the support of a like-minded tribe.
We understand that embarking on a new trading journey can be daunting, which is why we offer a "no nonsense" 30-day satisfaction guarantee. Test drive The Wagner Daily risk-free, and if it's not for you, simply let us know within the first 30 days.
Don't let opportunities like $LULU, $ONON, $UBER, $SHOP, and $CELH pass you by. Join the ranks of thousands of successful traders who have already unlocked stellar gains with our explosive swing trade alerts. Get started now with your Wagner Daily subscription and learn to trade with confidence.