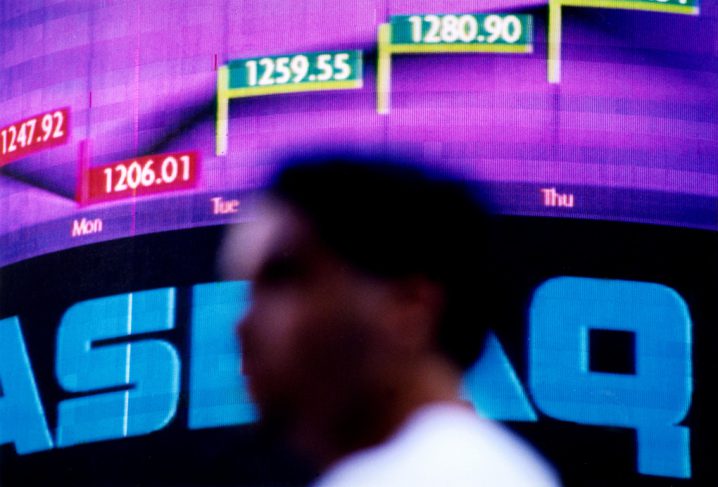 Recent price action in the Nasdaq Composite has been choppy and indecisive, but the tech-heavy index is stealthily forming a bullish chart pattern that could spark a new rally.
Volatile, indecisive trading in the Nasdaq Composite ($COMPX) last week led to big moves in both directions.
On a short-term basis, Nasdaq price action has indeed been a roller coaster ride.
However, zooming out to the "big picture," we see the Nasdaq Composite is actually in the process of completing an inverse head and shoulders bottoming pattern.
If completed, this powerful chart pattern would be a bullish signal suggesting the intermediate-term trend has shifted in favor of the bulls.
The inverse head and shoulders pattern is labeled on the daily chart of $COMPX below: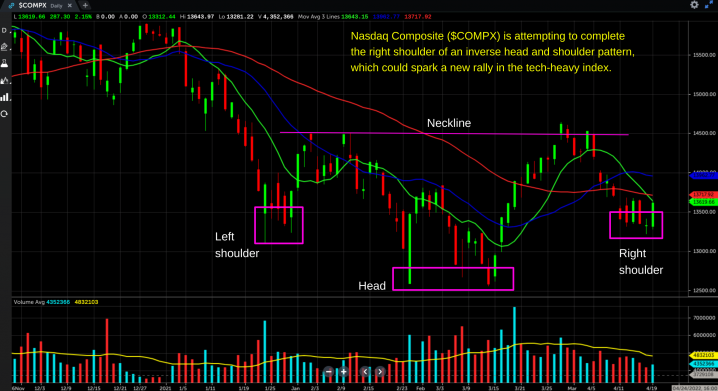 The current pullback in the Nasdaq Composite found support at the 13,300 area before jumping 2.2% in yesterday's (April 19) session.
On the chart above, notice how that support level is the same area where the low of the left shoulder also found support.
Though not shown on the chart, the low of the right shoulder (13,300 area) also converges with support of the 61.8% Fibonacci retracement level from the last wave up.
The April 19 rally sets up $COMPX for upside follow-through that may propel the Nasdaq to test its neckline, just above the 14,500 level.
If the price breaks out above the neckline, then we could see follow-through that leads to a completion of the inverse head and shoulders pattern.
Where will the inverse head and shoulders pattern lead?
The upside price target for any inverse head and shoulder pattern is equal to the distance from the neckline down to the head.
In this case, that works out to an upward move of roughly 16.5% above the neckline–an ultimate price target around the 16,900 area.
Of course, there's still a lot of work to be done before the Nasdaq Composite needs to worry about any upward price targets.
Specifically, $COMPX must first overcome key resistance of its 10, 20, and 50-day moving averages to recover back to the neckline around 14,500.
Further, a sudden break below the April 18 low of 13,222 would quickly invalidate this bullish chart pattern and return the balance of power back to the bears.
As always, we remain focused on providing subscribers of our flagship swing trading service with the best stock picks to profit in both up and down markets–since 2002!
GET STARTED NOW to start receiving your swing trade alerts of the most explosive stocks to buy now.