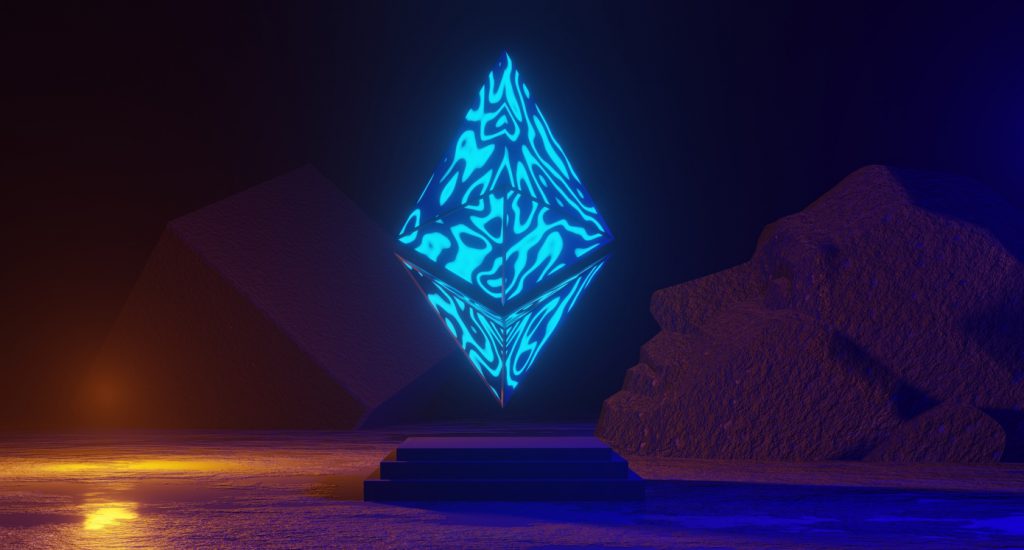 We recently bought Ethereum when it pulled back to its 10-day MA, then sold for a gain of nearly +8% just a few days later. Here is a simple review of that winning $ETH swing trade entry and exit.
Ethereum ($ETH), the second largest cryptocurrency behind the King of Crypto, led the crypto market higher with a solid display of relative strength last week.
As Bitcoin ($BTC) drifted lower in pullback mode, $ETH trended steadily higher and broke out to new short-term highs.
On March 30, we alerted Morpheus Crypto Pro members in the Crypto Trading Room that we were monitoring for a potential pullback buy entry for $ETH in the Morpheus Crypto portfolio.
Specifically, we were looking for a precision buy entry on a pullback to the 10-day moving average.
But why?
In a strongly trending crypto (or stock), the first pullback that touches the 10-day moving average since the start of a new rally is often an ideal, lower-risk buy entry point.
The $ETH Buy Signal
We got our exact pullback entry point the next day, and we sent a trade alert to Morpheus Crypto members that we were buying $ETH in the portfolio.
The daily chart of $ETH below shows our buy entry point from the crypto signal:
Notice how our buy entry off the 10-day MA was the FIRST touch of that moving average since the strong rally began weeks prior.
Again, this is typically a reliable buy signal–as long as the pullback is not on higher volume.
Shortly after our buy entry, increasing bullish momentum enabled $ETH to rally all the way back to its prior high the next day.
At the same time, we noticed $BTC only recovered a portion of its similar pullback--not all the way back to the highs like $ETH!
This is notable because it pointed to clear leadership and relative strength in $ETH versus $BTC.
Leadership in $ETH also meant that we were likely to see short-term buying momentum in the overall altcoin market.
Locking in a +7.9% gain on a 4-day hold of $ETH
When we bought $ETH in the portfolio, our trade plan was a quick momentum swing trade to just above the 3,600 area–a resistance area from earlier this year.
At the same time, we also wanted to take profits quickly if the price action started to falter (rather than sit through a pullback).
On April 3, $ETH broke out above its short-term highs and made a run for the 3,600 level.
However, the price action stalled and $ETH drifted right back down to its prior base.
This is shown on the hourly chart below: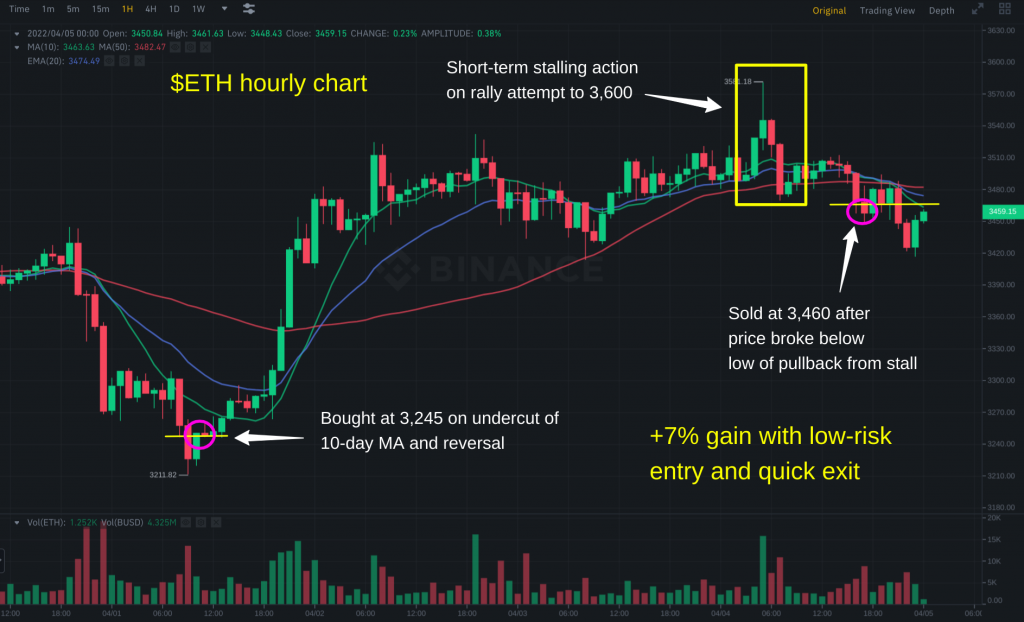 Given this short-term stalling, we sent a Crypto Trade Alert to Morpheus Crypto members that we were raising the stop to just below the low of that pullback.
As anticipated, the short-term stalling led to further selling, which quickly knocked us out of the trade with a solid +7.9% gain.
That's the Morpheus trading system at work with low-risk entry points and proactive trade management to generate consistent crypto trading gains!
Discover a lot more educational crypto trading content in the Morpheus Crypto archive of past reports. Then, become a member to receive our top crypto trade signals, educational analysis, and your exclusive access to the Crypto Trading Room.