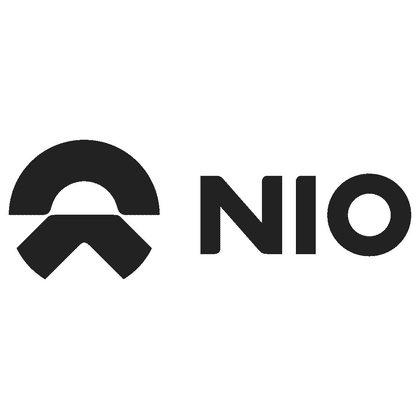 The Electric Vehicle sector has been surging higher, pushing Chinese EV manufacturer Nio ($NIO) to a +40% gain this week alone. Here's how we found this hot stock–before its recent breakout to new highs.
In late 2018, a Chinese electric auto manufacturer named Nio ($NIO) launched an IPO in the US stock market.
The initial response of that public offering was not well received, causing the stock to lose 90% of its value in 12 months.
But thanks to the amazing performance of Tesla ($TSLA) stock, other select stocks in the electric vehicle (EV) sector have started heating up as well.
After building a five-month base of support, $NIO cleared resistance of a twenty-month downtrend and blasted off in June 2020.
Since that breakout just three months ago, $NIO has soared more than 300%–including a gain of more than 40% over the past week alone.
In the August 24 issue of The Wagner Daily, our flagship swing trading report, we listed $NIO as a potential buy entry above the $14.75 level.
Nio triggered that buy entry the same day, then broke out and rocketed to new highs the next day.
As of the August 27 close, $NIO is already showing an unrealized gain of +36% since subscribers were alerted on Monday.
Continue reading to discover exactly why we bought Nio when we did, then use that knowledge to profit from the next big mover that sets up in a similar way.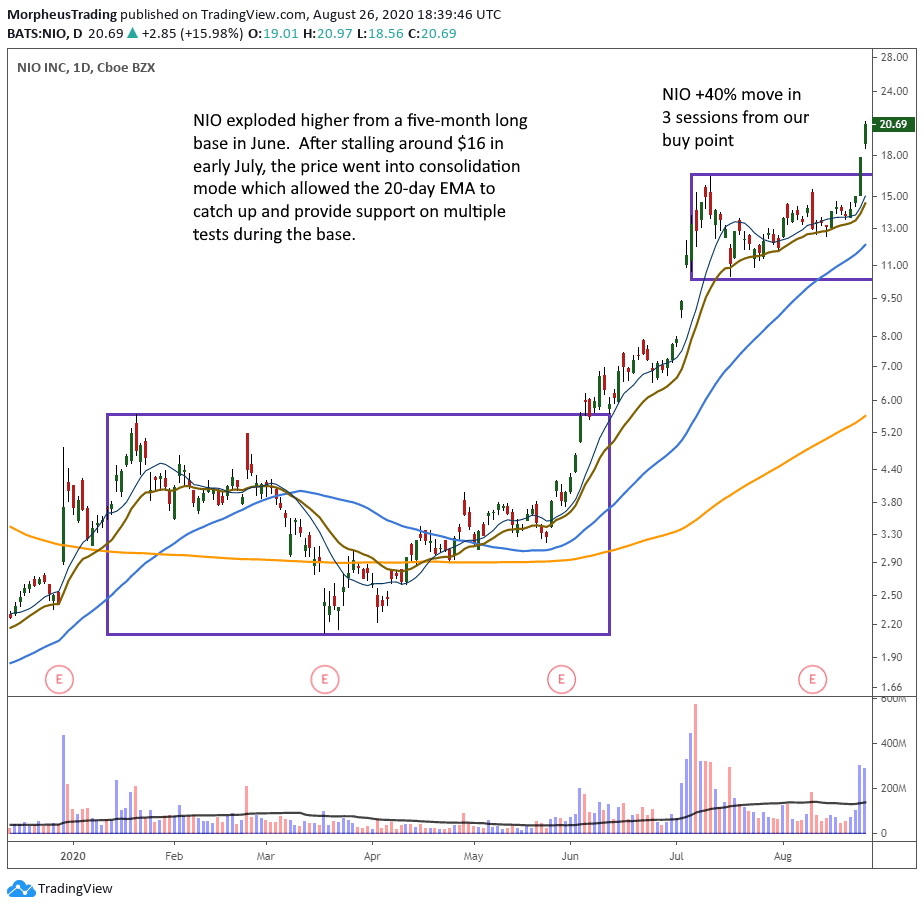 Why we bought $NIO (just in time for a +40% move)
In a bull market rally, the strength of leading stocks often spreads to other stocks in the same industry sector–especially when the stock belongs to a strong industry group.
Although $NIO had already massively rallied off its post-IPO lows by July 2020, the Chinese EV stock subsequently formed a bullish, six-week-long base of consolidation. The rising 20-day exponential moving average provided support while the base was forming.
We also liked that $NIO is part of the Auto Manufacturing sector, which (thanks to Tesla) was ranked #1 out of the 197 industry groups tracked by Investors Business Daily.
As for the specific entry point, the second series of tight price action (just below the swing highs from August 18 and 21) really caught our attention.
We then listed $NIO as a potential buy entry above the $14.75 level in Sunday night's (August 24) swing trading report.
The Nio trade setup and breakout that followed is annotated on the daily chart below: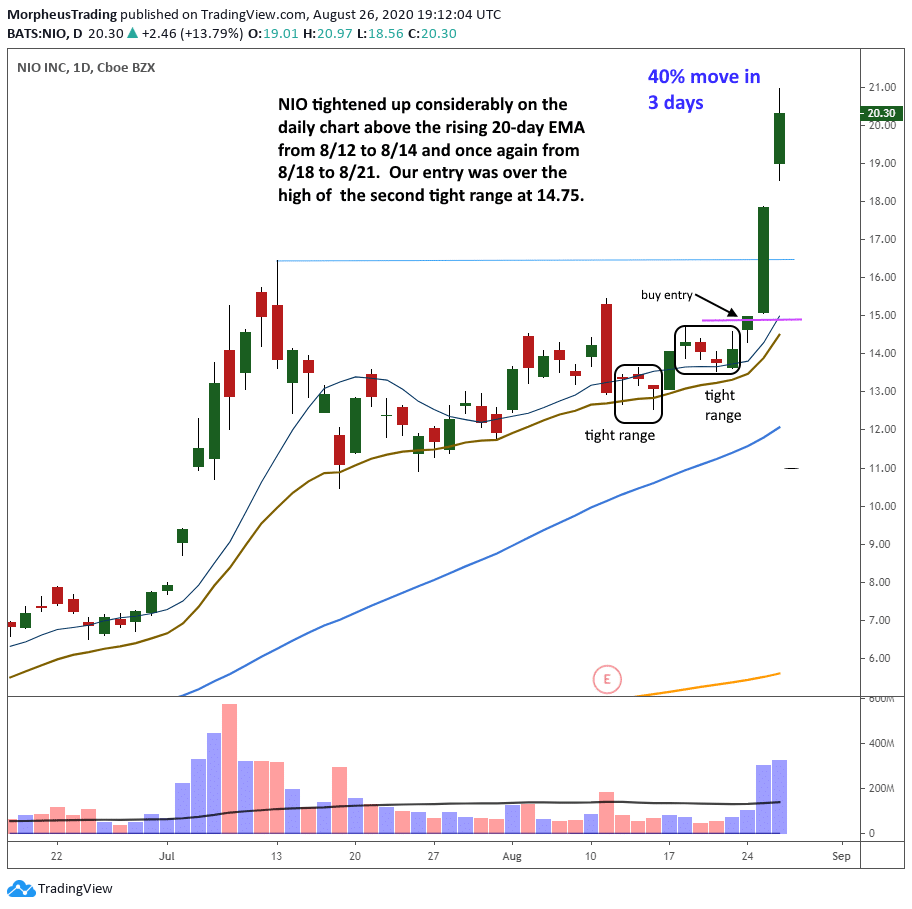 When Nio broke out to new highs on August 25, notice that volume surged to more than double its average daily level.
This was followed by an even higher volume day when $NIO continued rocketing higher the next day.
Although Nio may need a little time to consolidate and digest its recent gains in the near-term, remember that strength leads to more strength.
If recent bullish accumulation continues, $NIO could be just getting started–though it still has quite a way to catch up to market-leading Tesla. 😉
Don't miss out on the next monster mover in this hot bull market! Sign up now for The Wagner Daily to be instantly alerted to the best swing trade setups in the market every day.