After consolidating in a sideways range for five days, the Nasdaq Composite broke out to a fresh six-month high yesterday. Leading stocks outperformed the broad market as well, enabling the swing trading stock and ETF picks of our premium newsletters to surge higher. But now, recent price action in the broad market has been perfect for attracting what we refer to as the "late to the party Charlies" ("LTPC").
The LTPC are retail investors and traders who don't believe the power of a rally while it's happening, so they watch stocks move higher and higher. Meanwhile, they say to themselves, "I will get into the market when we eventually get a pullback." But when the pullback doesn't come, or is very minor, such as a sideways correction by time instead, they begin to feel strong feelings of regret. When stocks subsequently make another leg higher, without having undergone the pullback they were expecting, the feeling of regret turns to fear of missing yet another move higher, so they finally give in and decide it's time to start buying.
When the LTPC finally start buying, the market has usually already made the bulk of its momentum-based move, and a short-term top is near. Typically, the LTPC get in the market just in time to suffer through a significant correction. The daily chart of the Nasdaq below shows why the LTPC are probably starting to enter the market now: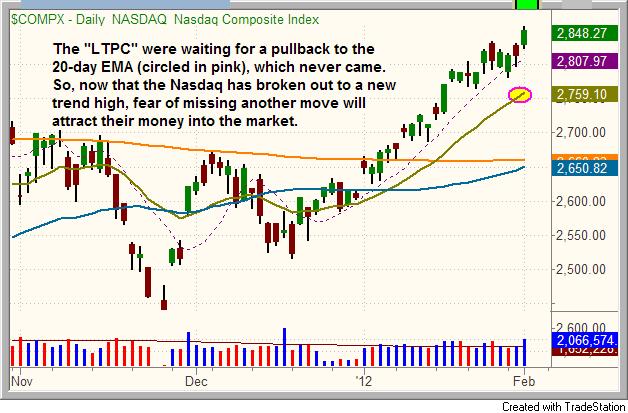 How bad is the timing of the LTPC entry into the market? Well, take a look at the longer-term weekly chart of the Nasdaq: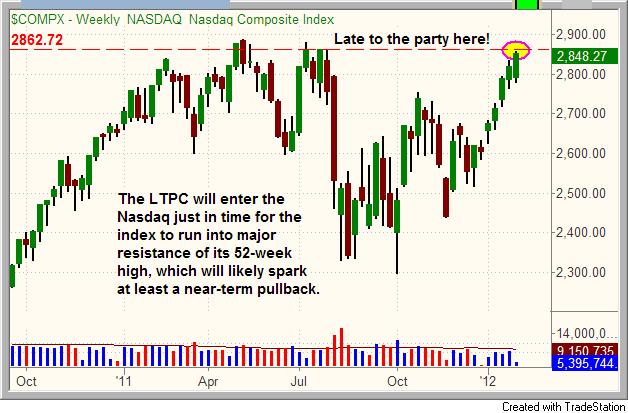 If you haven't already been positioned in the market in recent weeks, don't be an LTPC! You may have missed the move, but at this point it becomes dangerous to start chasing the market. Although we remain positioned long with a mix of stocks and ETFs that are showing gains from our entry points ($SOXL, $IYT, $IYZ, $TDG, $ASGN, $CONN, $AKRX, $NUAN, $ELN, $NSR, $JAZZ, $STAA), we believe the bulk of the market's current move has already occurred. As such, we're still building on existing long positions, but much more cautiously (smaller share size, tighter stops, etc.).  Further, we are looking to sell our winning positions into strength in the near-term, then exit the market and patiently wait for new trade setups to develop. Astute traders might consider doing the same.