Following a sizeable morning gap down, stocks fought their way back to close near session highs. Trade was light. All five major indices closed lower, with the small-cap Russell 2000 incurring the biggest loss on the day. The high beta index slid 0.8%. The S&P MidCap 400 dropped 0.5% while the S&P 500 lost 0.25%. The Nasdaq pared early losses to close less than 0.2% lower. The DJIA was the day's best performer as it minimally lower. Strong sectors included, gold, biotechs, semiconductors, software, transportation and internet. The natural gas, defense, utilities, insurance and banking sectors all struggled.
For a second time in a row, market internals ended the session mixed. Turnover slid 5.8% on the Nasdaq and 8.6% on the Big Board. Declining volume held the upper hand on advancing volume by a factor of 2.4 to 1 on the NYSE and 1.6 to 1 on the Nasdaq. Despite the mixed internals, yesterday's price action provided the feel of a reversal. If nothing else, we would label yesterday as a consolidation day for the broad market.
Yesterday, on an uptick in volume, the Direxion Daily Semiconductor 3x Bull ETF (SOXL) formed a bullish reversal candle. SOXL gapped down at the open, undercut its 10-day and 200-day moving averages but by the closing bell had almost reclaimed both key marks. Further, SOXL closed near session highs. A move above yesterday's high of $36.62 could provide a buy entry for this ETF. We are placing SOXL on the watchlist. Trade details are posted in the watchlist section of the newsletter.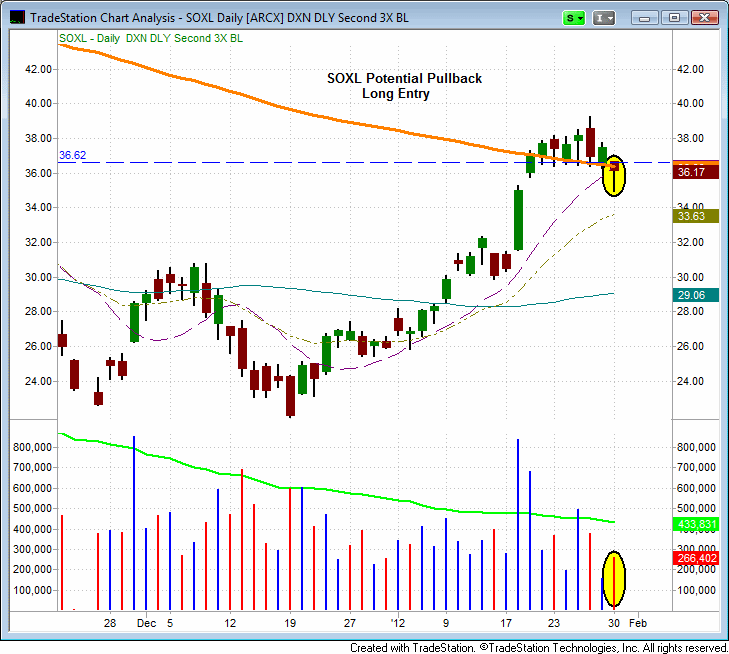 Our open positions all held up well yesterday with IYT showing the most relative strength. IYZ, DVY and XLP all came within pennies of stopping out. However, all three formed reversal candles and closed near session highs. It's important that all three of these trades get back into their two week trading ranges or we may consider exiting them early.
Overall we would have to consider yesterday a good day for the market. Despite the early morning gap down, the market recovered strongly and all but one of the major indices closed near session highs. The Russell 2000 underperformed but still managed to close in the middle of its intraday range. Yesterday's price action is typical for a market that wants to head higher. The crowd continues to buy the dips and we've still only booked one distribution day since late December.
The commentary above is a short version of our daily ETF and stock newsletter, The Wagner Daily. Subscribers to the full version receive specific stock & ETF trade setups with detailed trigger, stop, and target prices, as well as daily updates on all open positions. A Live Trading Room is included with your subscription, and Intraday Trade Alerts are also sent via e-mail and/or text message, on as-needed basis. Click here for your risk-free subscription.