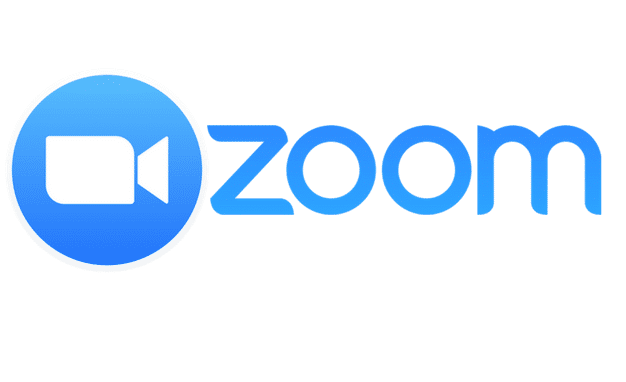 Zoom Video ($ZM) rocketed to a new record high yesterday, enabling subscribers to score a gain of +8.8% so far. Here's a simple chart review of the trade setup that led to this timely entry.
With a huge percentage of the global population working from home during the coronavirus pandemic, companies that easily facilitate remote working have seen massive revenue jumps lately.
Zoom Video ($ZM), quickly becoming a household name for hosting online video meetings, is one such public company that has been benefiting hugely.
Shares of $ZM zoomed 12.5% higher to a new all-time yesterday (April 23), paving the way for further upside in the near-term.
Since we listed Zoom as a new breakout buy setup in the previous night's Wagner Daily report, our subscribers were prepared to take advantage of the profitable opportunity.
After buying on yesterday's open, the model portfolio of our nightly swing trading newsletter is now showing an unrealized gain of approx. +8.8% on the first day of entry into $ZM.
Continue reading to see exactly what we liked so much about the Zoom chart pattern that led to this timely breakout entry into $ZM.
$ZM – Cup with Handle Breakout Setup
The $ZM chart caught our attention while forming a bullish cup with handle type pattern over the past five weeks.
We discussed the Zoom trade setup in Wednesday night's newsletter as a potential breakout buy entry above $155.
Specifically, we really liked the declining volume as the price chopped around in a fairly tight range from from April 16 to 22.
Declining volume during a consolidation near the highs is a bullish signal–it tells us the bears are not stepping in to sell while the bulls take a rest.
Below is the exact commentary and chart we listed for subscribers in Wednesday night's Wagner Daily report:
"We'd love if $ZM were to have pulled back a bit more and put in some sort of reversal candle off the 20-day EMA, but Tuesday's selloff may be all we see from this leading stock. Wednesday's tight trading range on light volume is a bullish sign if the price can move higher. Note the dry up in volume the past few days as well. If $ZM can get going, it could turn into an explosive mover."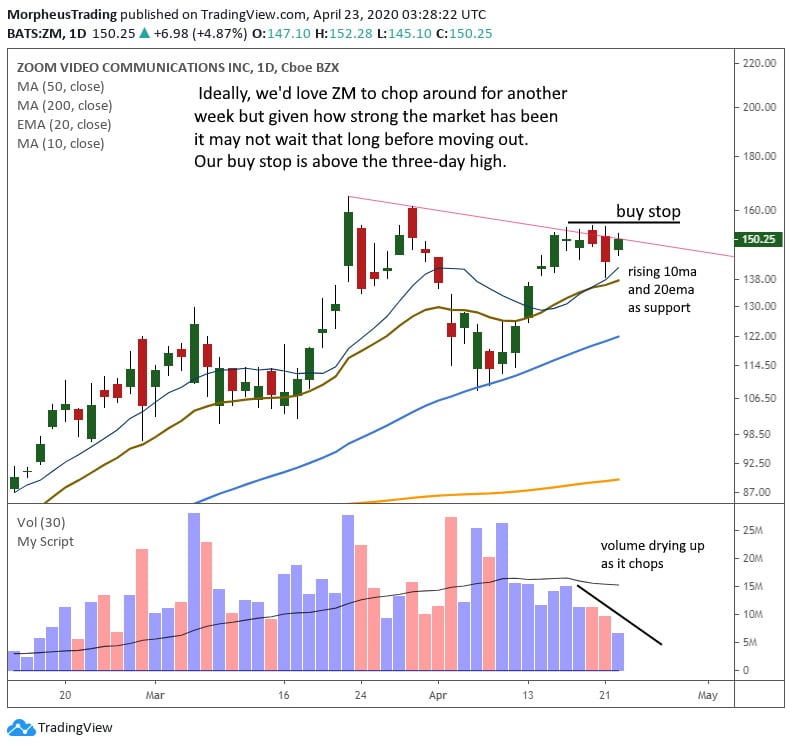 Going into the April 23 trading session, we listed $ZM for breakout buy entry with a trigger price of $155.10 (above the three-day high).
$ZM triggered our buy entry just two minutes after the market open, then never looked back!
With a powerful volume surge backed by institutional accumulation, Zoom exploded to a 12% gain and closed at a new all-time high yesterday. Check it out: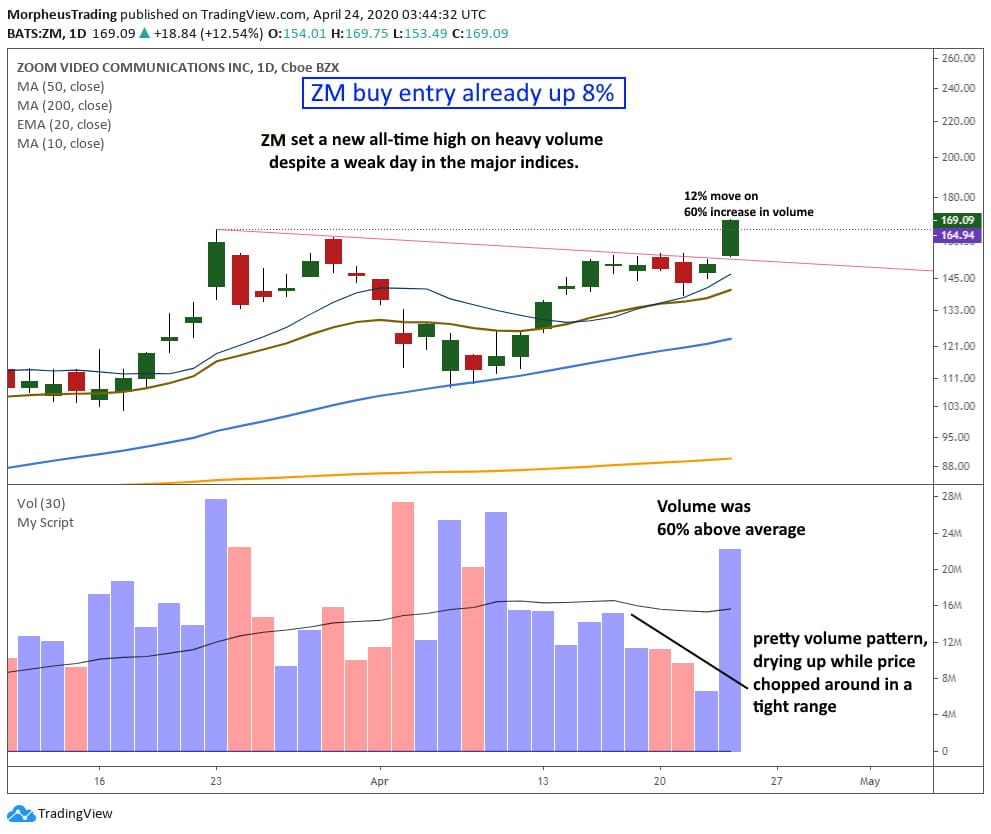 The relative strength of Zoom's breakout was impressive, especially considering the broad market showed weakness throughout most of yesterday.
Given the monstrous move out of the starting gate, $ZM has the potential to become a huge winner and the next market leader if overall market conditions do not deteriorate.
From here, we plan to trail a stop higher to maximize profits and minimize risk as the stock cruises higher.
As always, Wagner Daily subscribers will be alerted to any changes in the stop or target price, depending on the future price action of $ZM.
By the way, in case you missed it, the cast of Saturday Night Live even had a lot of fun with Zoom. Check it out: