Morpheus Crypto members realized big gains from swing trading Bitcoin ($BTC) after it formed a bullish reversal on February 24. Here is a quick walk-through of the setup, including how we scaled in and out of the trade to maximize profits.
Bitcoin ($BTC) initially sold off sharply after news of the Russian invasion of Ukraine spread on February 24.
However, bulls quickly took advantage of the sell-off and aggressively stepped in to reverse momentum higher.
This caused a bullish reversal pattern to form on the $BTC daily chart, which was confirmed by sharply higher volume.
Bitcoin's bullish reversal candle on higher volume generated a short-term buy signal and we bought $BTC in the Morpheus Crypto portfolio at 38,420 the next day.
Check out the February 28 issue of Morpheus Crypto Report for a quick video that explains the $BTC buy setup at that time.
Securing a quick +13% gain with partial position size
After a brief consolidation period, $BTC followed through with its bullish reversal, and we sold HALF the position into strength near the 43,500 level.
This enabled members to lock in a quick gain of +13% five days after entry.
We took profits on partial position size due to resistance of Bitcoin's prior highs, but kept the remaining half position in anticipation of further gains.
Re-entering Bitcoin at a lower price after taking profit
Furthermore, we also planned to re-enter that half position we sold at a better price–which we did with our second buy entry at 41,625 on March 9.
After selling the initial half position for a +13% gain and re-buying at a lower price, the Morpheus Crypto portfolio then had a new average price of 40,022 on the full $BTC position.
Bitcoin subsequently held the pullback lows, and we began trailing a stop higher to protect profits and minimize risk as $BTC moved higher.
After breaking out above its February 2022 high, we finally sold the full $BTC position into strength on March 29, for a sizable gain of +18.6%.
The daily chart below shows our exit into strength, as the $BTC price stalled at resistance: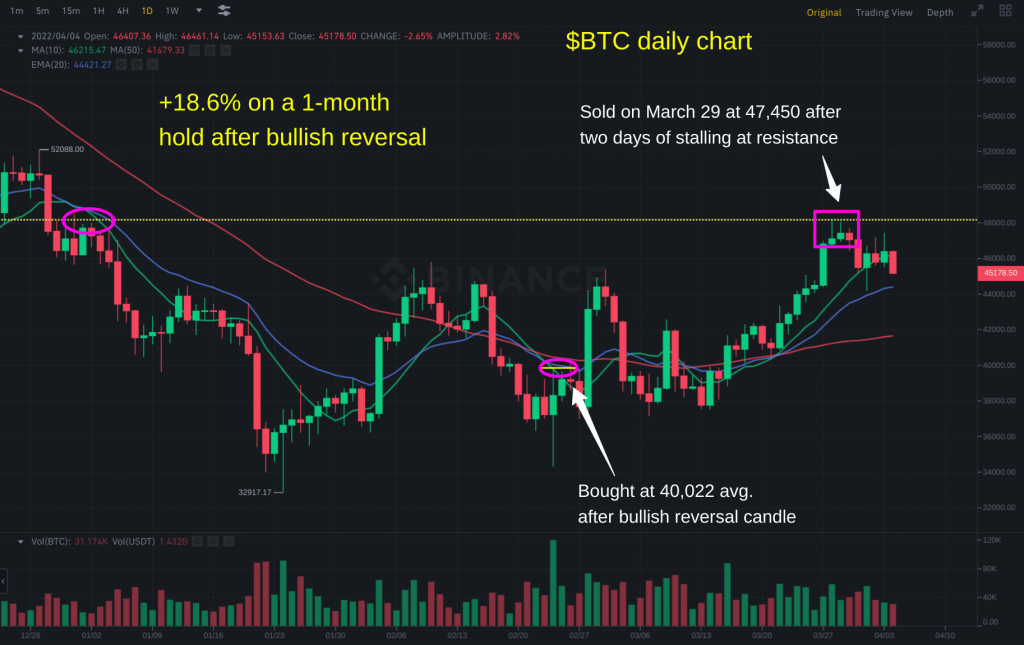 Our $BTC exit worked out well, as that level marked the high of the rally so far.
Still, price action in $BTC lately remains constructive, as it spent the past week in healthy pullback mode.
Currently, Bitcoin has pulled back to the 45,500 to 46,000 area–which is new support of the prior resistance from the February highs.
If $BTC fails to hold the 45,500 level, then look for next support around the 44,200 level.
This is support of the prior pullback low from April 1, which also converges with support of the 20-day exponential moving average.
Regardless, keep in mind that $ETH may still be a better pullback entry than $BTC because of its higher relative strength (but keep in mind the crypto market is quite dynamic).
SUBSCRIBE NOW to start your membership and profit from trading the best crypto signals with Morpheus Trading.