Bitcoin formed another bullish reversal pattern on April 25, but this time the King of Crypto may be stuck in "no man's land" in the short-term. Here's why…
In the April 18 issue of Morpheus Crypto Report, we showed you that Bitcoin ($BTC) formed a bullish reversal candle after undercutting support and rallying back above "psychological resistance" at the 40,000 level on April 18.
That bullish reversal day triggered a new, short-term buy signal, and prompted us to buy $BTC in the Morpheus Crypto portfolio that day.
However, we also warned that $BTC could still pullback after rallying into key resistance of its 50-day moving average around 42,100–and that's exactly what happened!
$BTC initially blasted through its 50-day MA on April 21, but failed to hold the breakout for more than a few hours before selling pressure caused the price to slide lower.
The failed breakout attempt at the 50-day MA attracted further selling, which weighed heavily on Bitcoin and most altcoins for four more days.
Bearish price action began intensifying on April 25, initially causing $BTC to plunge below the low of its April 18 reversal day.
However, the bulls stepped in, reversed the bearish momentum, and pushed Bitcoin back above that pivotal 40,000 level again.
As such, $BTC formed another bullish reversal day on April 25; exactly one week after the formation of the previous one.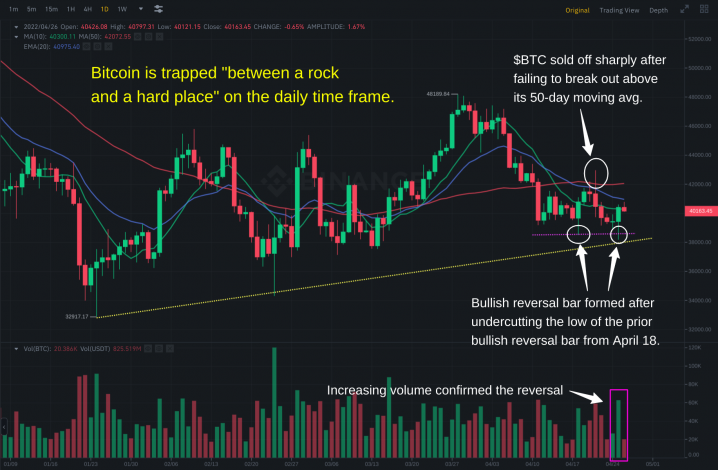 The April 25 reversal day, confirmed by higher volume, technically shifts the short-term balance of power back to the bulls.
Nevertheless, a lot of overhead supply has been created in the wake of the recent sell-off sparked by the bearish reversal at the 50-day MA.
Perhaps more importantly, Bitcoin continues moving in sync with the US stock market–and that's not good considering the current technical state of US stocks.
It's unlikely the $BTC reversal bar would have formed on April 25 if the Nasdaq would have failed to bounce that day.
Furthermore, the April 25 bullish reversal day may be unable to follow through IF recent, heavy selling pressure in the Nasdaq remains in the coming days.
With $BTC caught between a rock and hard place right now, we are currently in "SOH mode" (sitting on hands).
However, if Bitcoin price action continues improving, then we will cautiously seek new crypto swing trade entries in setups with low-risk entry points and positive risk-reward ratios.
As always, we will promptly send a crypto trade alert to Morpheus Crypto members with our exact entry and stop prices for any new trade entries.
Not yet a Morpheus Crypto member? Just SIGN UP HERE to get started now.
Want to learn more about the service first? Press here to see actual recent past issues of Morpheus Crypto Report.