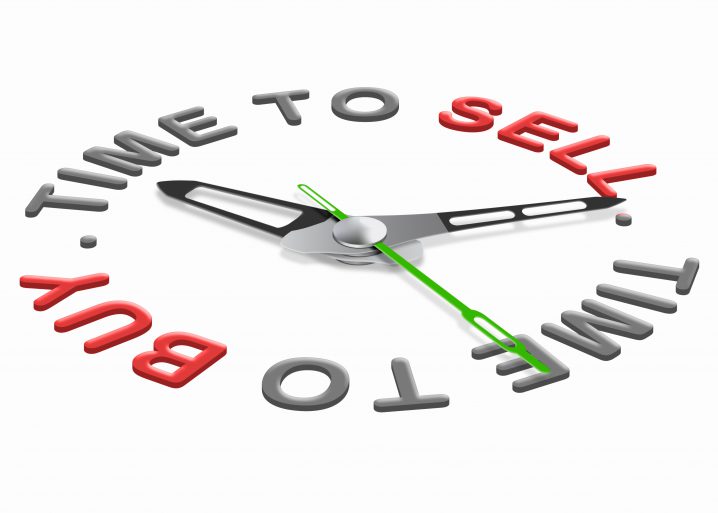 Knowing WHEN to buy stocks is just as important as knowing WHAT to buy. Here's a simple, rule-based marketing timing system to help you maintain proper exposure–regardless of market trend.
Since approximately 80% of stocks move in the same direction as the dominant broad market trend, one of the first and most important aspects of our stock trading strategy is to always trade on the same side of the overall stock market trend.
Even the strongest stocks will rarely move higher when the broad market is being heavily sold. Conversely, most stocks will be towed along to the upside in a raging bull market.
The Problem Traders Face Without Realizing It
A major mistake that many swing traders experience is properly identifying valid patterns of the best stocks to buy, but doing so at the wrong time.
Many traders, for example, have absolutely no idea that they should not be buying stocks AT ALL when the broad market is in distribution mode (institutional selling).
They simply see a bullish chart pattern and assume the stock must be a great buy. But the problem is bullish patterns only work in bull markets!
If you take away the element of a bull market, bullish technical chart patterns such as bull flags, cup and handles, flat bases, and pennants do not work and/or have no edge.
As such, many traders bang their heads against the wall in weak markets because they are buying the best chart patterns, but at the wrong time.
The Simple Solution
The good news is that if you are a new trader, you can dramatically shorten your learning curve by following and learning a systematic, rule-based market timing model, and consistently sticking with that approach in both good times and bad.
In every issue of our swing trading newsletter, we provide an easy way for subscribers to quickly determine our current overall market bias, based on the objective rules of our system for market timing (press here for an overview of how the timing system works).
Below is an explanation of each of our five different stock market timing modes is used in our newsletter, one of which will always represent our current overall stock market bias:
Confirmed Buy –
High odds of the broad market following through to the upside and staging (or remaining in) a meaningful rally
Positions sized at full (maximum) risk
Long exposure typically anywhere from 100% of model account buying power to 200% (based on margin), depending on strength
No short positions
Buy –
Market conditions have improved (when coming from prior decline) and are beginning to show signs that stocks are ready to launch a meaningful rally
Positions typically sized at 25% – 50% of maximum position sizing
Long exposure around 50-60% of cash value of the model account
May still have 1-2 short positions in the portfolio if the buy signal is weak and the prior decline was significant
Neutral –
Buy signal was recently generated as market was attempting to form a bottom, but the buy signal fails (false buy signal)
Rather than immediately switching back to "sell" mode, we adjust the model to "neutral"
In this mode, we can be positioned either long or short
Position size of all new trade entries will be lighter than usual, in order to reduce risk
Portfolio will be primarily (or fully) in cash, with only a few positions in either direction
Sell –
Current intermediate-term market rally is over and odds of the market pulling back are very high (when the broad market is extended from a muti-month rally)
We immediately get off margin
Will be focused on taking winners off the table, tightening stops on long positions, and/or reducing long exposure significantly
In some cases, we will sell all positions and quickly move 100% to cash
A few short positions initiated
Confirmed Sell –
Broad market is breaking down and the odds of a significant decline are high
No long exposure, as we do not trade against the market trend
Short exposure (including inverse ETFs) is at its highest level, in order to profit from a downtrending market
We begin every issue of our stock picking report by stating which of the five modes above our market timing model is currently engaged in.
This helps to increase the odds of trading profits because it ensures that members are not only receiving our best stock and ETF picks, but are also targeting the right chart patterns at the right time.
Although we provide, in advance, our exact entry, stop, and target prices for each and every stock pick, many newsletter subscribers also prefer to make their own stock picks, but just need guidance on determining when market momentum is shifting.
Determining when it's time to step on or ease off the gas pedal is precisely what our simple, rule-based stock market timing system is designed to do.
Not yet a member? SUBSCRIBE to The Wagner Daily from less than $1/day.