Below is a past issue of Morpheus Market Minutes, your free daily market analysis and top picks for swing trading stocks and crypto.
May 18, 2022
Tuesday's rally produced a follow-through day buy signal in the Nasdaq Composite and S&P 500, as both indices gained more than +1.5% on increasing volume.
Although market conditions are not ideal for our style of trading (breakouts in growth stocks), it looks like stocks want to push higher in the short-term.
Due to the lack of quality buy setups near 52-week highs, our focus now shifts to buying stocks that are bouncing from oversold levels and could run 20-30% or more within the next week or two.
One example of this is $AFRM, which recently gapped off the lows on big volume: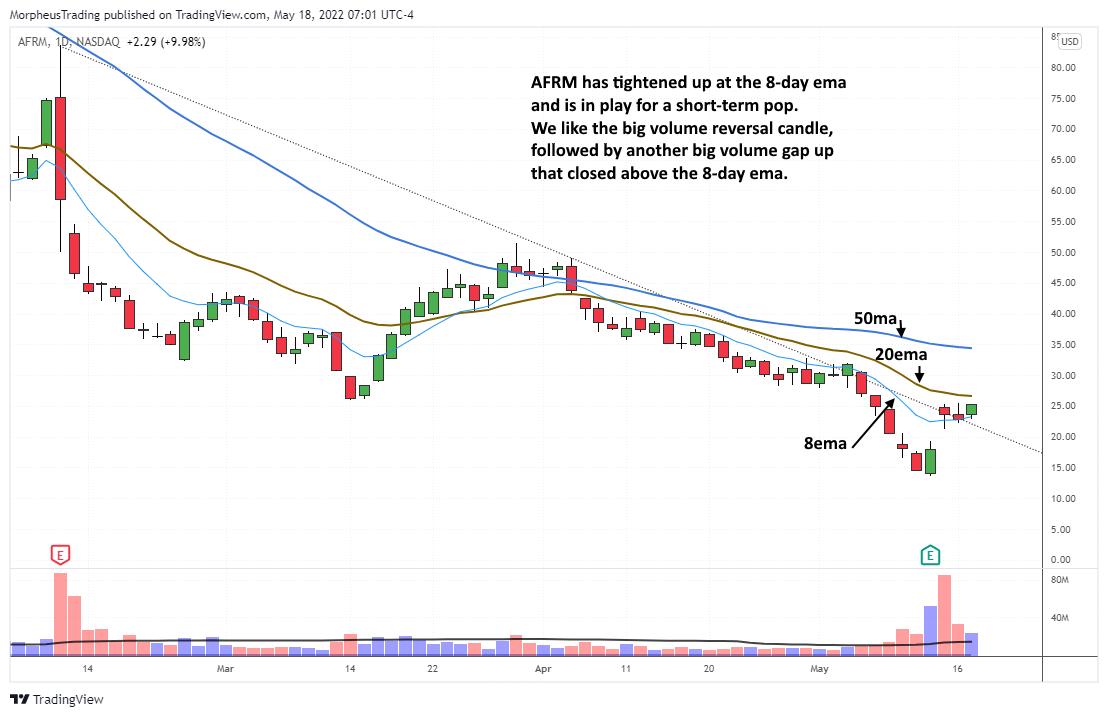 The high volume gap up closed above the 8-day ema and in the upper half of the day's range.
This was followed by two more days of tight consolidation action above the 8-day ema on lighter volume.
Now, we are stalking $AFRM for short-term swing trade entry to take advantage of the current bounce in the major averages.
Wagner Daily members should note our exact buy trigger and stop price in the Watchlist section of today's report.
Although we are selectively scanning for new buy entries, remember that both the S&P 500 and Nasdaq Composite are still below their declining 20-day exponential moving averages on the daily chart.
Be vigilant and proactive with regard to any new short-term buy entries.
SIGN UP NOW to receive trade alerts with our exact entry and stop prices, portfolio access, and complete market analysis. Wagner Daily PRO also provides you with access to your live Swing Trader Chat. If you enjoy this free service, please share with a friend.