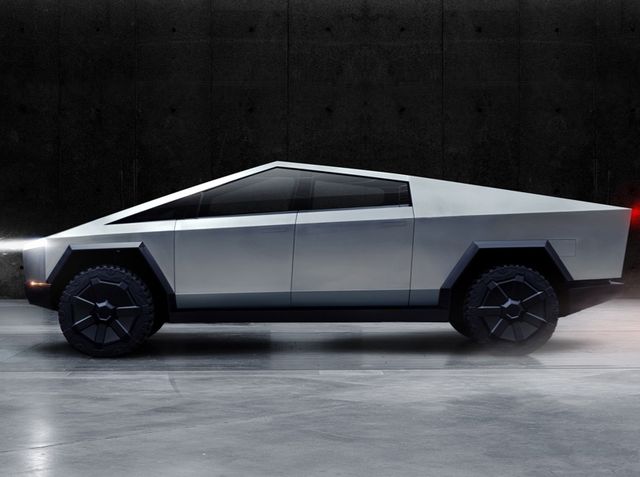 Tesla got investors pumped when shares recently broke out above $1,000, while we're still holding $TSLA from the $800 level. Here is an educational recap of the original Tesla trade setup, and an update on how we have been managing the winning trade.
In our May 6 blog post, Trade Alert: $TSLA Breakout From Cup With Handle, we said we were planning to buy "$TSLA on a rally above the $800 level."
Tesla ($TSLA) triggered our buy entry in the Wagner Daily model portfolio shortly thereafter. Subscribers who followed the trade are currently showing an unrealized gain of approx. +38% since then.
Now, we are following up with a technical chart review of the Tesla setup that led to that gain.
Continue reading to also learn how to detect similar bullish chart patterns that will help you find the next explosive mover!
How we identified Tesla as a potential buy entry
Initial trade criteria for buy setups
In a bull market, we focus on trading leading growth stocks that have the potential to generate solid gains of at least 20-40% over a 4-12 week period.
We are trend traders at heart, so our trade setups should always be in stocks that are showing bullish momentum on their daily charts.
A few moving averages help us screen for initial candidates. Specifically, we look for trending stocks that are above their 50-day moving averages, and where the 50-day MA is above the 200-day MA.
This basic scan helps to filter out stocks that are not already in an established uptrend.
Relative strength identifies leadership
In a strong market, we also want to be in stocks that are performing better than the S&P 500–especially when the S&P is just beginning to recover off its low.
Plotting a simple Relative Strength line helps us identify potential leadership. Pure price momentum, such as a large percentage move off a recent low, is also a key factor in analysis of potential trade setups.
In addition to being in a strong uptrend, we also liked that Tesla is an extremely liquid stock capable of large percentage moves. There are not many of these stocks in the market, so it's a good idea to monitor such stocks for potential entry after finding them.
Technical analysis of $TSLA buy entry
Below is a $TSLA daily chart below shows the exact entry points in our swing trading report model portfolio, followed by our detailed commentary on the trade setup.
With both buy entries, we placed protective stops beneath the prior two-day lows: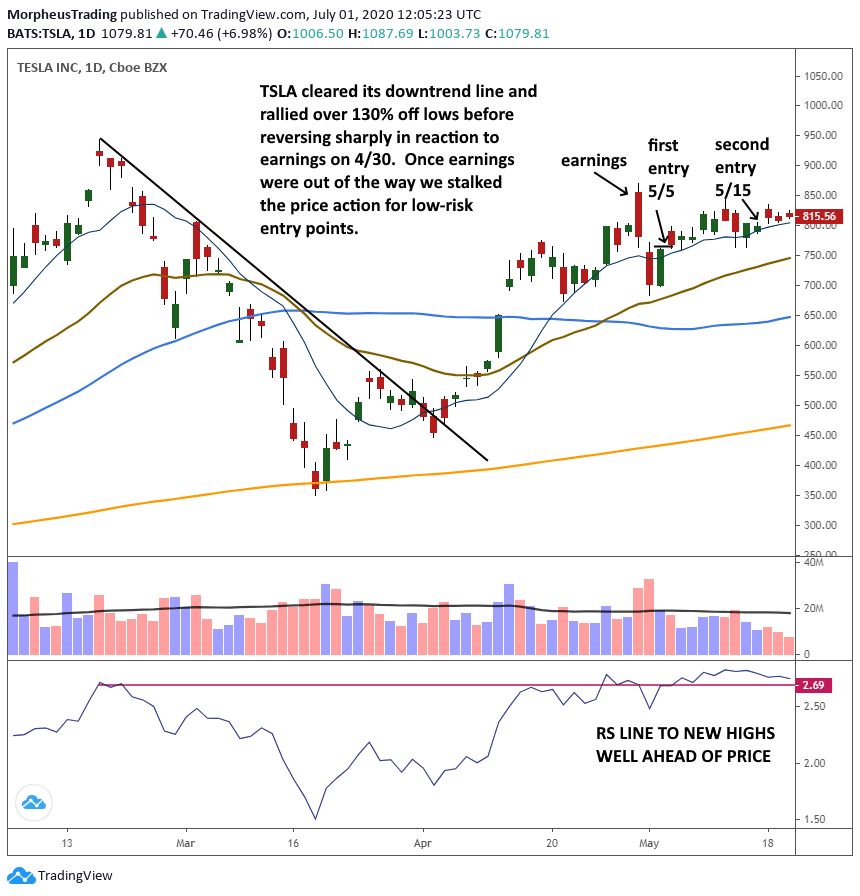 Tesla enters our radar
Tesla stock began breaking out above its downtrend line in early April. This was a positive sign, but $TSLA was still below its 50-day MA at the time. This means the setup was not yet actionable for our rule-based trading system.
But in late April, $TSLA powered through its 50-day MA on a massive gap higher, on its way to a +130% rally off its lows and into the April 29 earnings report.
Along with the impressive percentage move off the lows, we also noted the relative strength line was setting a new high ahead of price (bullish).
Nevertheless, the massive rally ahead of earnings meant the Tesla trade setup was not yet actionable for our system.
Time to buy after earnings
After earnings were out of the way (with an initial negative reaction), we began to closely monitor the price action for a low-risk buy point.
After the price reclaimed near-term support of its 10-day MA, we alerted subscribers of our initial $TSLA buy entry on May 5.
Due to constructive price action after the first buy entry, we added to the position on May 15 (on a pullback to the 10-day MA).
Since we knew Tesla had the potential to be a strong market leader, we were not looking for "perfect" price pattern to trigger these buy entries. Rather, we simply wanted to locate buy entries near a moving average (that was in play), and with relatively tight stops.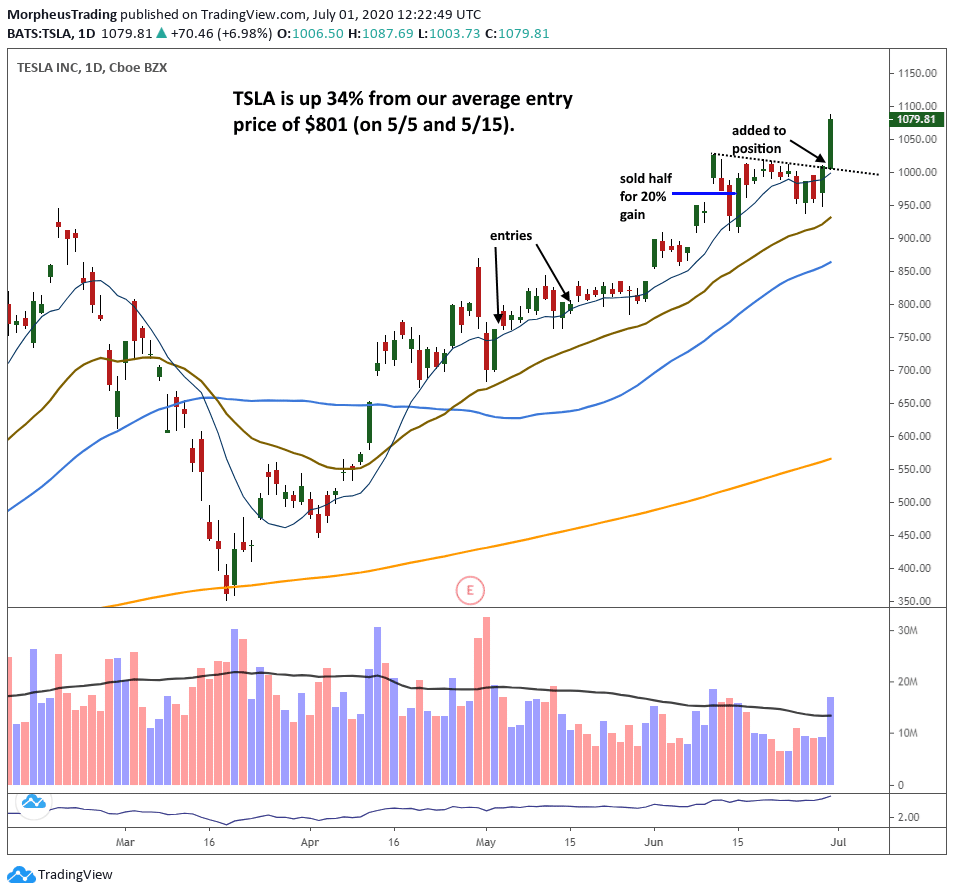 $TSLA did not explode immediately after our buy entries, but we were fine with that. In some cases, it is important to be patient with a long entry–as long as the price does not do anything wrong.
Bullish momentum started picking up after Tesla cleared the $850 level, enabling it to surge higher.
Management of a winning trade
As annotated on the chart above, we sold half of our position for a 20% gain on June 12. We continued holding the other half in anticipation of a larger move.
On June 30, we added back to the position after $TSLA moved above its short-term downtrend line and blasted through $1,000 on higher than average volume.
With healthy price action and no clear reason to sell, we remain long $TSLA with a +38% unrealized gain (as of July 1) from the original May 5 entry.
We also continue to hold several other leading breakout stocks with solid unrealized gains: $TTD +30%, $LVGO +18%, and $TWLO +15%.
Subscribe now to The Wagner Daily rep,ort and be instantly alerted to the next explosive growth stock we enter (and find out when we eventually lock in profits on Tesla).