Morpheus Crypto Report – April 4, 2022
Below is the full, archived version of Morpheus Crypto Report that was sent to subscribers on April 4, 2022.
If you enjoy what you see, please join us as a Morpheus member to receive real-time access to your live crypto trader room, crypto trading analysis, crypto signals, and crypto portfolio.
Please drop us any questions or comments at the bottom of the post–we'd love to hear from you!
Crypto Portfolio
(tracks and updates all crypto signals sent to members)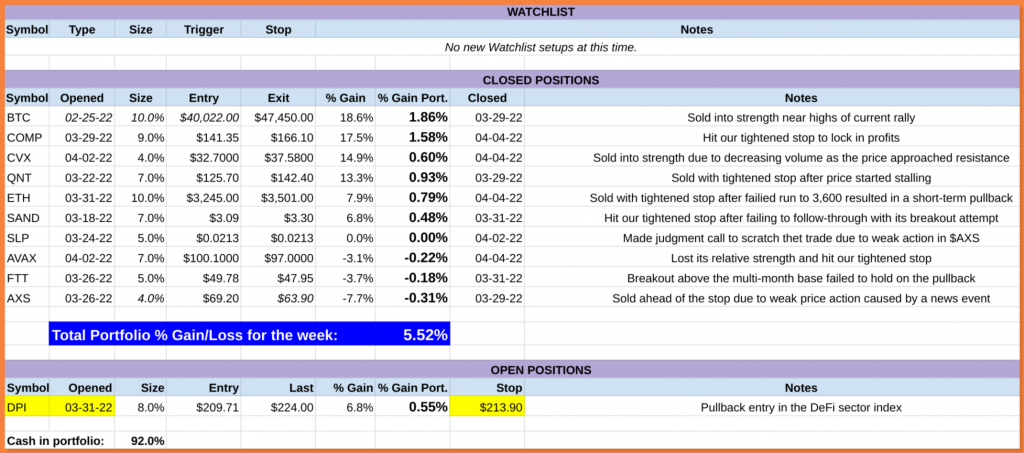 New crypto signals sent to members since the previous week are in yellow above.
Ethereum Breakout with High Relative Strength
Ethereum ($ETH), the second largest cryptocurrency behind the King of Crypto, led the crypto market higher last week, with a solid display of relative strength.
As Bitcoin ($BTC) drifted lower in pullback mode, $ETH trended steadily higher.
Ethereum also broke out above a key level of horizontal price resistance and bounced perfectly off support of its 10-day moving average.
On March 30, we alerted Morpheus Crypto PRO members in the Crypto Trading Room that we were monitoring for a potential pullback buy entry for $ETH in the portfolio.
Specifically, we were looking for a precise buy entry on a pullback to the 10-day moving average.
But why?
In a strongly trending crypto (or stock) the first pullback that touches the 10-day moving average since the start of a new rally is often an ideal, lower-risk buy entry point.
The $ETH Buy Setup
We got our exact pullback entry point the next day, and we sent a Crypto Trade Alert to members that we were buying $ETH in the portfolio.
The daily chart of $ETH below shows our buy entry point:
Notice how our buy entry off the 10-day MA was the FIRST touch of that moving average since the strong rally began weeks prior.
Again, this is typically a reliable buy signal–as long as the pullback is not on higher volume.
Shortly after our buy entry, increasing bullish momentum enabled $ETH to rally all the way back to its prior high the next day.
At the same time, we noticed $BTC only recovered a portion of its similar pullback--not all the way back to the highs like $ETH!
This is notable because it pointed to clear leadership and relative strength in $ETH versus $BTC.
Leadership in $ETH also meant that we were likely to see short-term buying momentum in the overall altcoin market.
Locking in a +7% gain on a 4-day hold of $ETH
When we bought $ETH, our trade plan was a quick momentum swing trade to just above the 3,600 area–a resistance area from earlier this year.
At the same time, we also wanted to take profits quickly if the price action started to falter (rather than sit through a pullback).
On April 3, $ETH broke out above its short-term highs and made a run for the 3,600 level.
However, the price action stalled and $ETH drifted right back down to its prior base.
This is shown on the hourly chart below: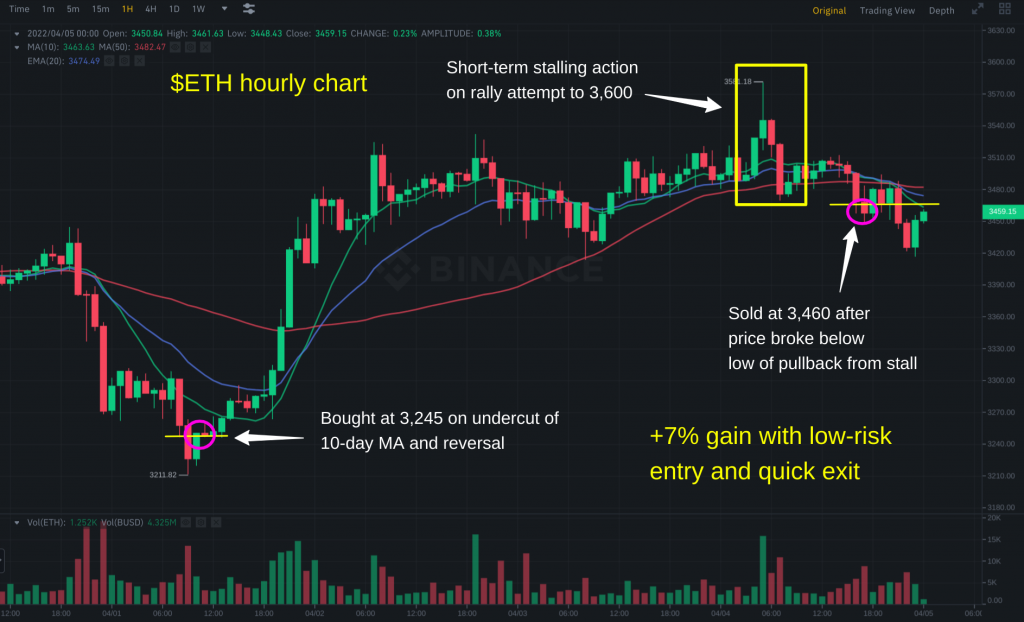 Given this short-term stalling, we sent a Crypto Trade Alert notifying members we were raising the stop to just below the low of that pullback.
As anticipated, the short-term stalling led to further selling, which quickly knocked us out of the trade with a solid +7.9% gain.
That's the Morpheus trading system at work with low-risk entry points and proactive trade management to generate consistent crypto trading gains!
Bagging a +18% gain in Bitcoin
We bought $BTC in the Morpheus Crypto portfolio after the higher volume, bullish reversal candle formed on February 24 (one of our "longer-term" swing trades).
Following our trading plan and trailing stops higher along the way, we finally sold the $BTC position into strength on March 29, for a solid gain of +18.6%.
The daily chart below shows our exit into strength, as it stalled at resistance: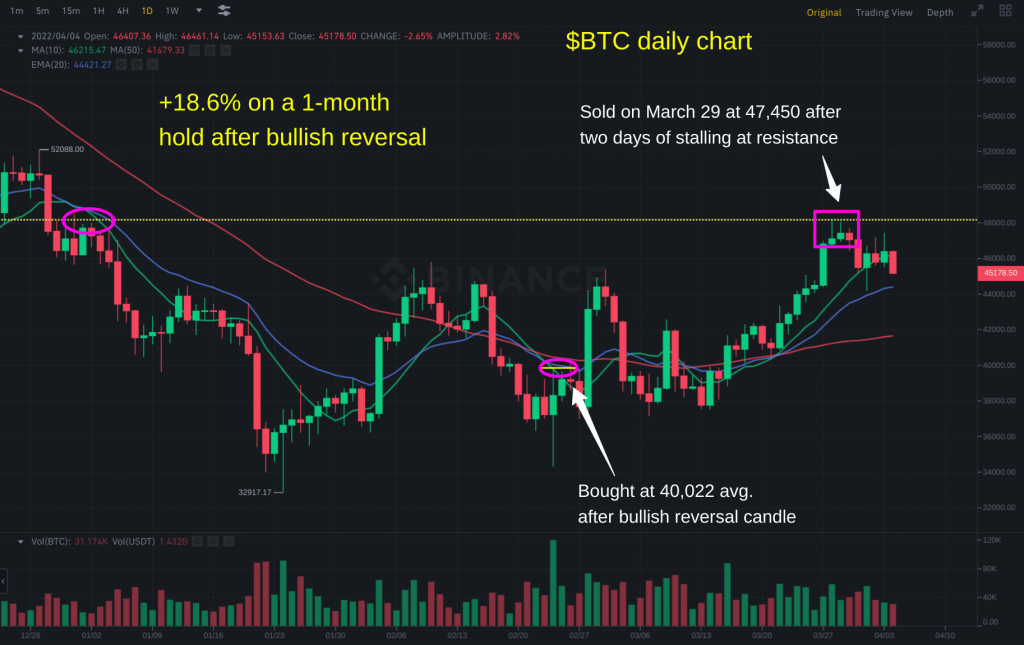 Our $BTC exit has worked out well, as that has marked the high of the rally so far.
Still, price action in $BTC lately remains constructive, as it spent the past week in healthy pullback mode.
Currently, Bitcoin has pulled back to the 45,500 to 46,000 area–which is new support of the prior resistance from the February highs.
If $BTC fails to hold the 45,500 level, then look for next support around the 44,200 level.
This is support of the prior pullback low from April 1, which also converges with support of the 20-day exponential moving average.
Regardless, keep in mind that $ETH may still be a better pullback re-entry than $BTC because of its higher relative strength (but keep in mind the crypto market is quite dynamic).
Hit and run altcoin trades
As mentioned above, the relative strength in $ETH spread to the rest of the altcoin market last week.
We took advantage of short-term momentum in the altcoin market with a few trades we held just a few days and sold for gains.
This enabled the Morpheus Crypto Portfolio to lock in a net portfolio gain of +5.5% for the week.
Individual trade stats were quite positive as well.
For the week, we closed the following trades (as shown in the portfolio above):
6 winners with an avg. net portfolio gain of +1.04%
3 losers with an avg. loss of just -0.24%
1 scratch (breakeven)
Let's review the charts of a few of these trades, to help you understand our rationale for the entry and exit levels of each.
$COMP: +17% gain in 5 days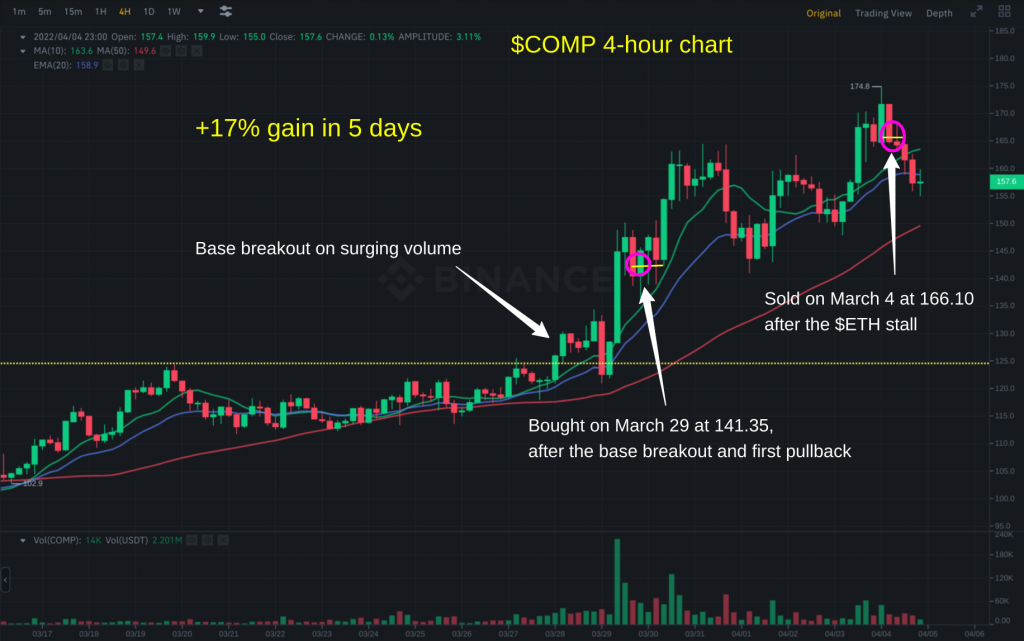 $CVX: +13% gain in 2 days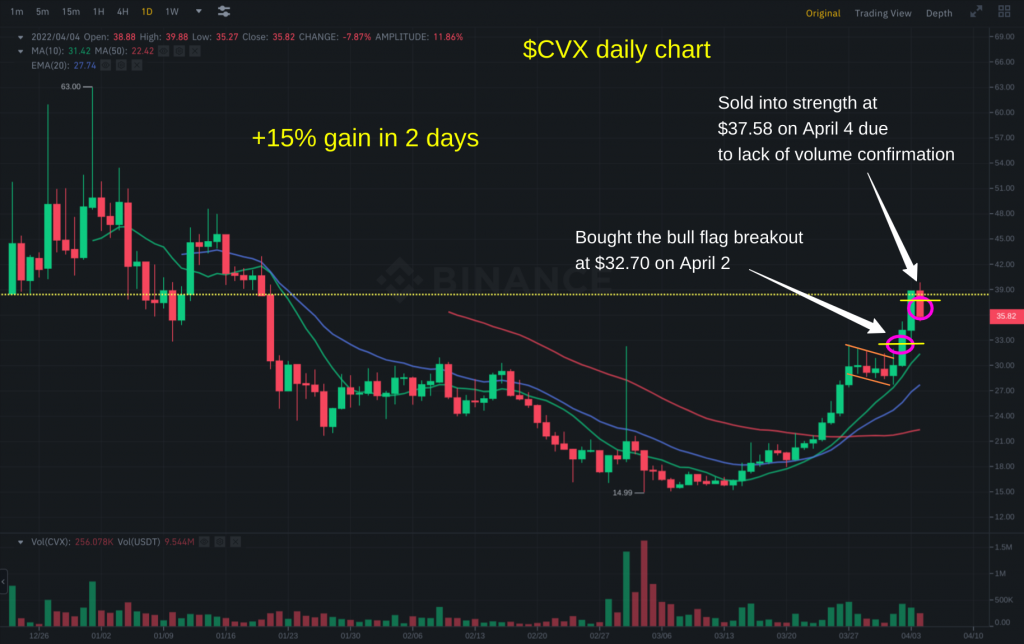 $QNT: +13% gain in 1 week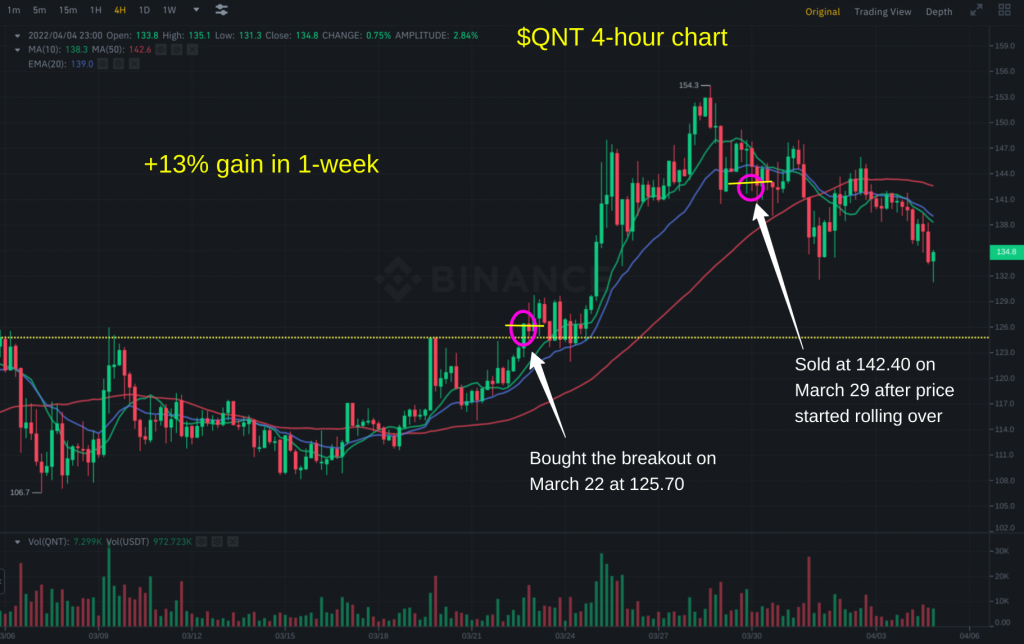 Battle Plan
After a highly profitable, busy week of trading, the Morpheus Crypto Portfolio is now back to a 92% cash position (only holding $DPI).
Recent market momentum has been ideal for profitable short-term trading opportunities, but we are not in a new bull market YET.
That's why we have been proactively managing the portfolio trades with more aggressive exit strategies.
The short-term trend remains up since last month's bullish reversal, but the intermediate-term trend could flip either at this point (depending largely on $BTC action).
As such, our overall trading strategy right now is to continue our "hit and run" strategy to focus on relatively quick profits with less risk of sitting through potentially steep pullbacks.
The market has given us some great trading opportunities over the past week, but may be entering a short-term period of indecision based on chart patterns we are seeing right now.
As such, we are currently scanning hundreds of charts for new potential pullback setups, but are not in a hurry to enter new trades at the moment.
Let's be patient to wait for the low-risk entry points to develop, just as we did by waiting for the pullback to the 10-day MA for our $ETH trade entry recently.
With a 92% cash position, we can be nimble and ready for the next opportunities.
SIGN UP NOW to start receiving your winning Morpheus crypto trade signals, including a crypto portfolio you can easily follow. Morpheus Crypto PRO includes live crypto trader room for daily, real-time trade ideas and powerful crypto trading education.