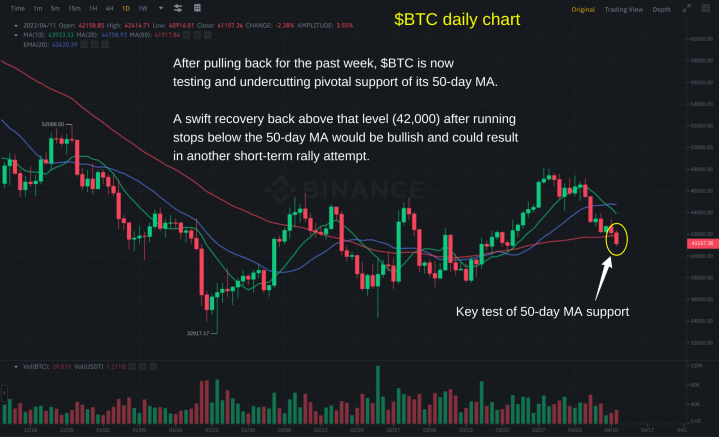 Morpheus Crypto Report – April 11, 2022
Below is the full, archived version of Morpheus Crypto Report that was sent to subscribers on April 11, 2022.
If you enjoy what you see, please join us as a Morpheus member to receive real-time access to your live crypto trader room, crypto trading analysis, crypto signals, and crypto portfolio.
Please drop us any questions or comments at the bottom of the post–we'd love to hear from you!
Crypto Portfolio
(tracks and updates all crypto signals sent to members)

New crypto signals sent to members since the previous week are in yellow above.
Bitcoin: All eyes on the 50-day MA
Bitcoin ($BTC) and most of the crypto market spent the past week in pullback mode, after a solid week of prior altcoin gains led by Ethereum ($ETH).
In the April 4 issue of Morpheus Crypto Report, we said it was "all about Ethereum" due to the relative strength that $ETH was showing to $BTC.
But this week, all eyes are on $BTC as it tests key, pivotal support of the 50-day moving average: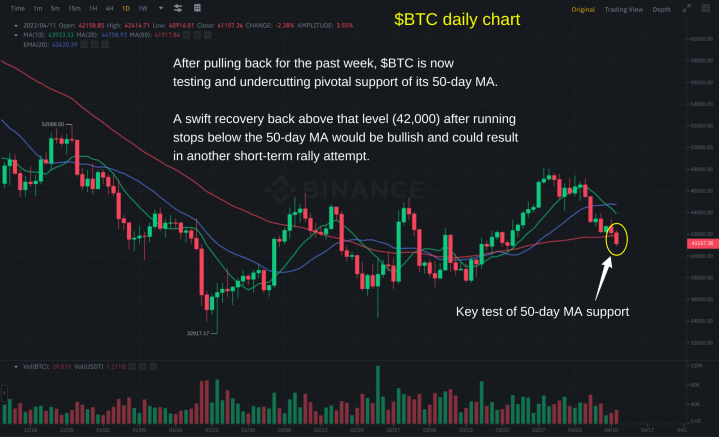 Currently, $BTC is trading about 2% below key support of its 50-day moving average, which is currently around 41,920.
When a cryptocurrency approaches an important, closely watched level of support such as a 50-day moving average, it is not uncommon for the price to undercut the actual support level before reversing higher.
Many traders and investors set their stops tightly below obvious support levels, and those stops often get run before the technical support does its thing to reverse the price higher.
As such, $BTC could still snap back above its 50-day MA and spark a new short-term rally.
However, all bets are off if the price does not reclaim the 50-day MA within the next 1 to 2 days.
The inability to quickly move back above the 50-day MA would be a confirmed break of intermediate-term support.
As for Ethereum, the daily chart of $ETH is still showing relative strength to $BTC–but the relative strength has been fading over the past few days.
Looking for Leadership
When the crypto market is in recovery mode and trying to establish a new uptrend, one of the indicators we utilize is leading altcoins breaking out to new all-time highs ahead of Bitcoin and Ethereum.
As top altcoins establish leadership and break out to new highs, it generally pulls the rest of the crypto market higher alongside it.
For example, it was encouraging that $LUNA broke out to a new all-time high above $104 two weeks ago.
This signal initially told us that other fundamentally strong altcoins may start following suit to new highs as well.
However, the $LUNA breakout failed to follow through and the breakout failed after just a few days.
Now, $LUNA is seeing heavy selling due to traders and investors who bought the breakout and did not quickly sell when the breakout failed: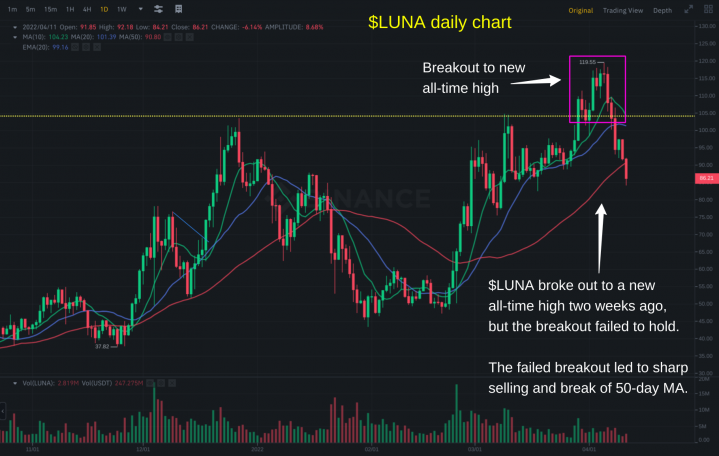 IF $BTC finds support at its 50-day MA and starts to rally this week, then we will again turn our attention to looking for individual altcoin leadership that could pull the market higher.
Altcoin Watchlist
Most altcoins lagged $ETH last week, and many have slipped back below their 50-day moving averages.
However, several cryptos are still showing relative strength on their daily charts by holding near their recent highs.
If $BTC and $ETH stabilize and start to head back up, the following cryptos with relative strength could be among the first to rally higher:
NEAR Protocol ($NEAR)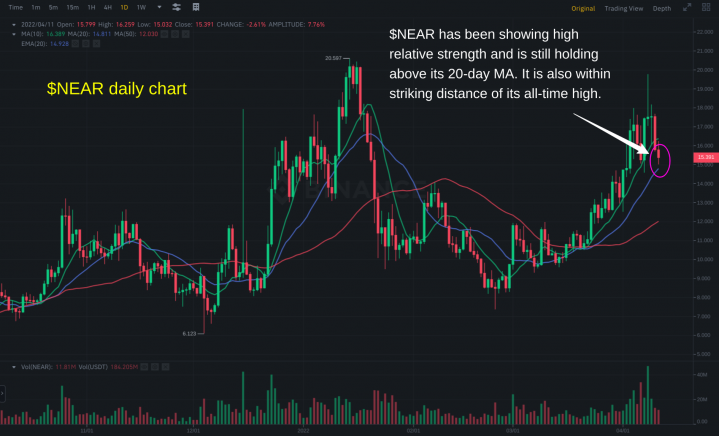 Kyber Network ($KNC)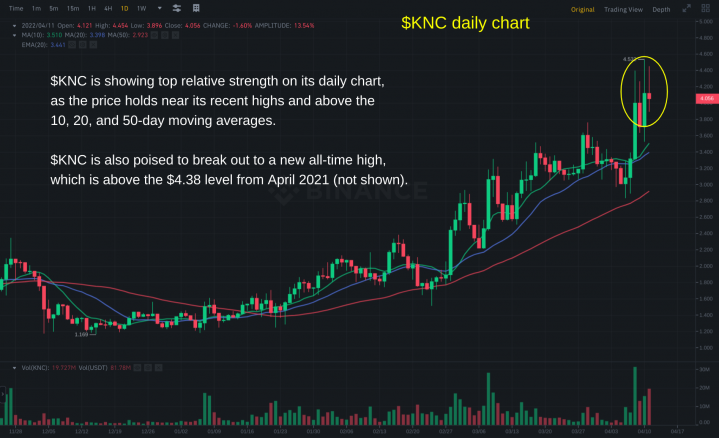 GMT Token ($GMT)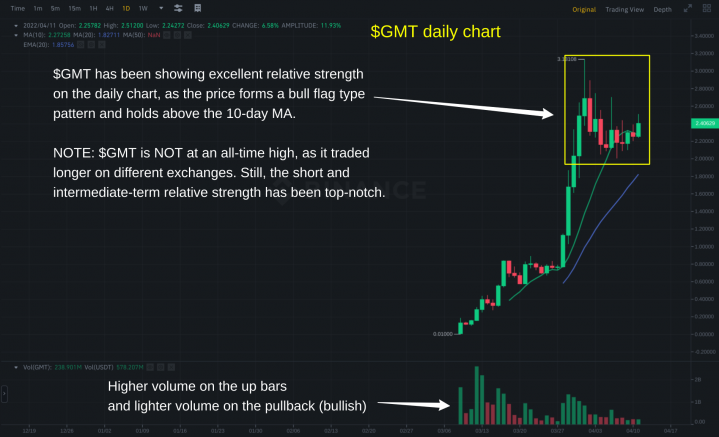 Zilliqa ($ZIL)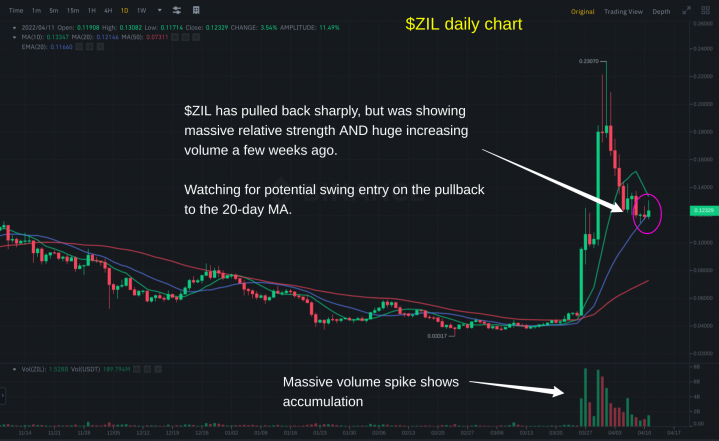 In addition to the above, both $CVX and $ETH (already holding) continue to show decent relative strength on their daily charts.
If the crypto market starts to rally this week, the plays above are on the top of our watchlist.
However, all bets for new buy entries may be off (for now) unless Bitcoin snaps back above its 50-day MA within the next one to two days.
Battle Plan
After selling into strength and locking in a net portfolio gain of +6% in the prior week, we entered four new positions with relative strength on April 7 (after Ethereum pulled back to its 20-day MA).
The new pullback entries have failed to gain traction due to the lack of a bullish market reversal after the correction.
However, patiently waiting for pullback entries enabled us to get lower risk entry points for new trade entries.
As such, three of our open positions are still holding above their stops–despite significant short-term weakness in the market.
$AAVE hit its stop after relative strength in the DeFi sector started fading.
For now, we continue holding the remaining three open positions with our original stop prices.
If Bitcoin fails to snap back above its 50-day MA soon, we may sell at least partial position size of these positions to reduce risk.
Meanwhile, we continue scanning the market for potential trade entries so that we are prepared if Bitcoin suddenly snaps back.
As always, we will send an intraday trade alert with tree details if/ when we enter any of the trade setups above .
Obviously, much will depend on bitcoin's performance as it tests key support of his 50-day moving average.
In the meantime, be sure to honor your stops and remember to trade what you see, not what you think!
SIGN UP NOW to start receiving your winning Morpheus crypto trade signals, including a crypto portfolio you can easily follow. Morpheus Crypto PRO includes live crypto trader room for daily, real-time trade ideas and powerful crypto trading education.