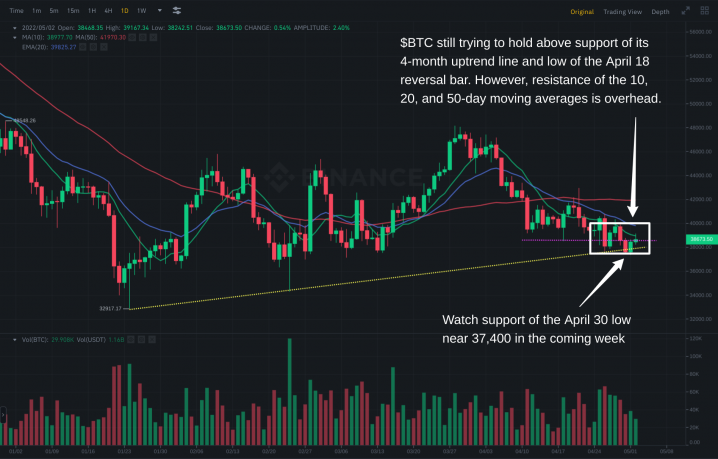 Morpheus Crypto Report – May 2, 2022
Below is the full, archived version of Morpheus Crypto Report that was sent to subscribers on April 18, 2022.
If you enjoy what you see, simply subscribe to receive real-time access to your live crypto trader room, crypto trading analysis, crypto signals, and crypto portfolio.
Please drop us any questions or comments at the bottom of the post–we'd love to hear from you!
Crypto Portfolio
(tracks and updates all crypto signals sent to members)
New crypto signals sent to members since the previous week are in yellow above.
Waiting for trend resolution in Bitcoin
In last week's report, we showed you how Bitcoin ($BTC) formed a second bullish reversal bar after undercutting support of its previous reversal from April 18.
That pattern technically positioned $BTC for short-term gains, but Bitcoin swiftly stalled after running into resistance of its 20-day exponential moving average on April 26.
$BTC then sold off sharply, formed a big red candle and sliced back down below pivotal support of the April 18 low.
However, $BTC quickly found support at its uptrend line from the January 2022 low: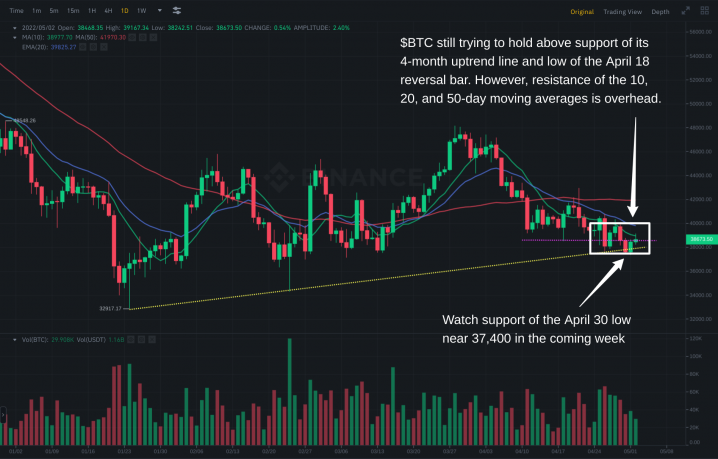 Bitcoin Tug of War
Looking at the daily chart of $BTC above, it's easy to understand why recent price action has been choppy and like a roller coaster from one day to the next.
The main bullish case is that $BTC remains above support of its uptrend line (yellow line) from the January 2022 low.
It is also bullish that Bitcoin has started showing increasing relative strength to the US stock market.
For example, the Nasdaq closed at its lowest level of 2022 last week, and is currently showing a year-to-date loss of -21%.
Yet, $BTC is still holding above support of its 4-month uptrend line–though it could have easily gotten wrecked alongside the Nasdaq last week.
Nevertheless, Bitcoin must still contend with overhead resistance of its 10, 20, and 50-day moving averages in the short-term.
In the coming week, monitor the following support and resistance levels that could finaly lead $BTC out of its choppy, indecisive range (in either direction):
Support:
37,400 area (April 30 low)
A breakdown below this level would also cause $BTC to break down below its daily uptrend line.
Resistance:
40,000 (20-day exponential moving average and psychological "round number" resistance)
If Bitcoin gets above the 40,000 level and holds, then look for next key resistance at:
42,000 (50-day moving average)
Morpheus Crypto portfolio scoring big gains–despite market weakness
Although $BTC merely drifted sideways to slightly lower last week, most altcoins showed relative weakness and plunged sharply lower.
Many altcoins, even former market leaders such as Solana ($SOL) and Avalanche ($AVAX), have fallen to or are nearing their 52-week lows.
However, despite broad-based altcoin weakness, your Morpheus Crypto portfolio has been bagging some nice gains lately!
We have carefully avoided overtrading in this choppy market, which has been crucial in avoiding losses.
We also have been utilizing a quick "hit and run" approach to taking gains on new trade entries.
In last week's report, we closed out a gain of +54% on $GMT (only a 3-day hold), +19% in $RUNE, and +12% in $OGN.
On April 27, we locked in a quick gain of +11% on just a 1-day hold of $ENS.
Then, we re-entered $ENS at a lower price just two days later.
Since then, $ENS has shown clear leadership as a top performer in the altcoin market.
On the daily chart below, notice that $ENS has broken out above major horizontal price resistance.
Most importantly, note the huge volume surge that accompanied the recent breakout: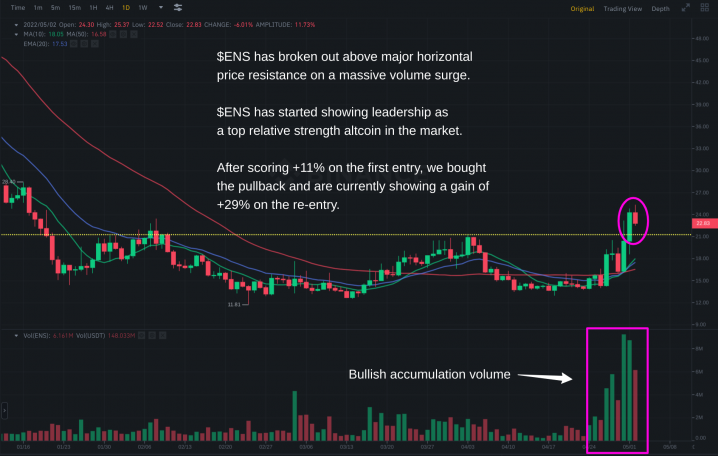 Currently, our portfolio re-entry in $ENS is showing a gain of +29%.
One of the reasons we are quite bullish on $ENS now is not only the bullish chart pattern.
We also really like the actual product Ethereum Name Services ($ENS).
These days, anyone can register an Ethereum domain name for $5 per year.
Ethereum domain names are NFTs on the blockchain that correspond to your personal Ethereum wallet address.
If someone wants to send crypto to your Ethereum wallet, the sender only needs your Ethereum name (such as "morpheus.eth") to send crypto to that wallet, rather than the full address.
It's basically the blockchain version of registering a dot com domain name back in the early days.
As rare and valuable ENS names get sold for big money (especially to companies), the value of the token goes up.
Remember how much money was made in the early days when people bought website domain names of big companies that later sold them for millions of dollars.
Same concept here.
There's a lot of buzz about ENS on social media as well, and we believe in the fundamentals of this project longer term.
Do your own research, but we believe $ENS has the long-term capability to be a top 10 crypto.
Nevertheless, we will continue to swing trade $ENS with a shorter-term focus due to overall market conditions.
However, this may be a crypto that we're able to trade in and out of–just as this is our second entry after making 11% on the first entry.
Watchlist
After scanning hundreds of charts, we are not seeing many low-risk swing trade setups for our watchlist right now.
As previously mentioned, heavy selling on April 30 caused technical damage to many chart patterns.
Nevertheless, we are already positioned in the top play in the market now ($ENS).
$HBB also continues to show high relative strength and is consolidating after its recent breakout.
We just bought $RUNE in anticipation of a short-term pop, but will look to cut the loss early if today's initial bullish momentum does not follow through quickly.
As always, we continue scanning the market for the best crypto swing trades and will send a trade alert with details of any new trade entries or position updates.
SIGN UP NOW to start receiving your winning Morpheus crypto trade signals, including a crypto portfolio you can easily follow. Morpheus Crypto PRO includes live crypto trader room for daily, real-time trade ideas and powerful crypto trading education.