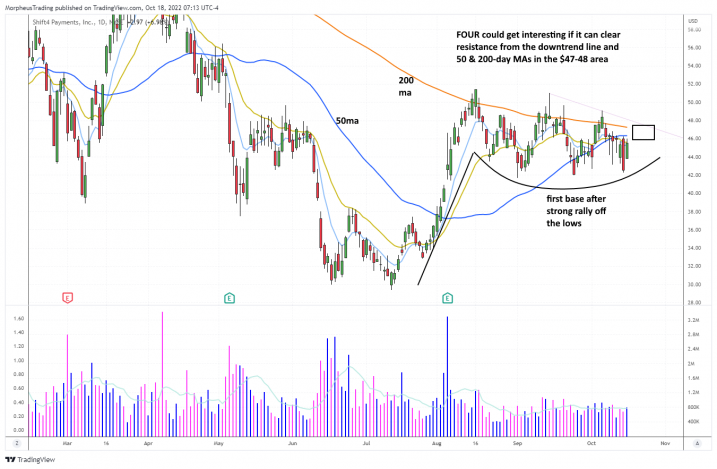 The Wagner Daily – October 18, 2022
Below is the full, archived issue of The Wagner Daily swing trading report (sent to members the night before the publication date).
Subscribe now for your access to the best stocks for swing trading, proven Morpheus stock trading strategy, and market timing model with a 20-year track record.
Just drop us a comment with any questions or comments–we'd love to hear from you!
---
MTG Market Timing Model – SELL
Our timing model was designed to keep our trades in line with the prevailing market trend, not to call tops or catch bottoms in S&P 500 or Nasdaq Composite.
today's watchlist along with open and closed positions:
Note the new buy stop for a 1/3 position in $RBLX
The Nasdaq Composite recovered from a disappointing close last Friday and regained the prior major swing low (around 10,600) on day 3 of a new rally attempt. The earliest we can see a follow-through day (a 1.5% or more gain in a major index) is Tuesday, day 4 of the rally.
Since we have the potential for a follow-through day buy signal on Tuesday, let's run through a few leading stocks that we are monitoring for an entry.
$RBLX gapped up in reaction to news and reclaimed the 50-day MA on big volume (3x greater than average).
The big volume gap up from a valid basing pattern is a bullish sign for the next few weeks. Some would think that the 20% move is too much in the short-term, but if conditions are improving, $RBLX could push much higher.
With the potential for a follow-through day, we are buying a 1/3 position in $RBLX over the gap-up day high with an 8% stop. We would also use a buy-stop limit of $44.20 to guard against a bad fill if there is a significant gap up. This is an official setup.
$FOUR is in consolidation mode and could be in play over the $47-48 area, which would put the price above the downtrend line and 50-200 MAs. No entry yet.
$SWAV is still on our watchlists as its currently in a 21% deep base with a relative strength line that could set a new high ahead of price (the RS line is the light green line below price).
A break of the 50-day MA and downtrend line would be a buy signal. No entry for now.
Other stocks to watch: $ELF $HQY $SG $CELH
Unofficial Setups –
Longs – none (but watching several stocks for potential entry points this week)
Shorts – none
See you in the chatroom,
Rick
Start my Wagner Daily membership now to start receiving winning Morpheus stock trade signals, including a stock portfolio you can easily follow. The Wagner Daily PRO includes live swing trader room for daily, real-time trade ideas and powerful stock trading education.