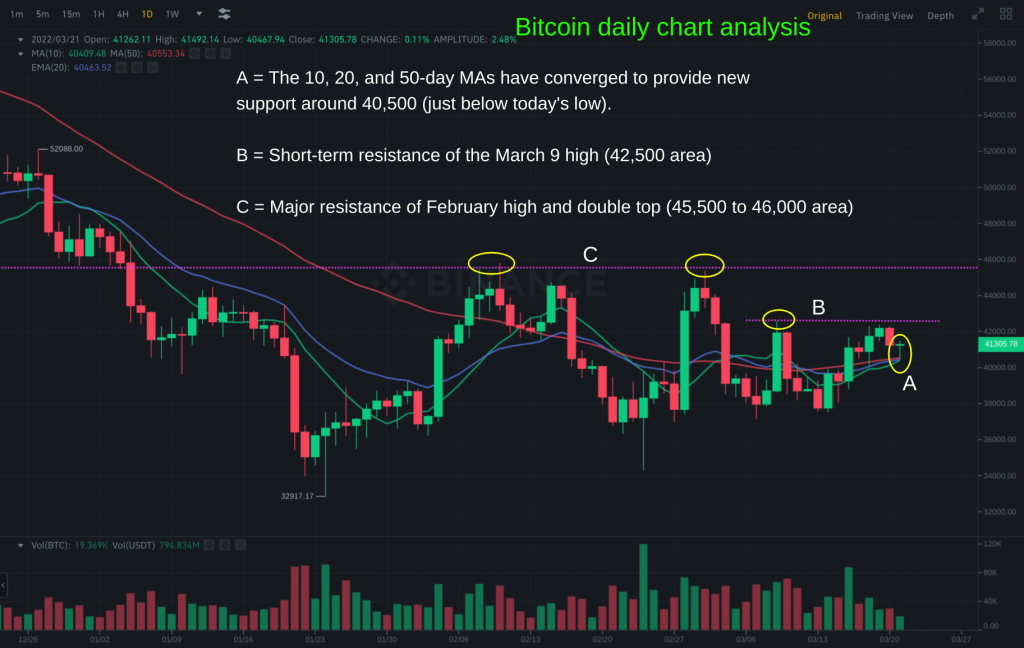 Morpheus Crypto Report – March 21, 2022
Below is the full, archived version of Morpheus Crypto Report that was sent to subscribers on March 21, 2022.
If you enjoy what you see, please join us as a Morpheus member to receive real-time access to your live crypto trader room, crypto trading analysis, crypto signals, and crypto portfolio.
Please drop us any questions or comments at the bottom of the post–we'd love to hear from you!
Crypto Portfolio
(tracks and updates all crypto signals sent to members)

New crypto signals sent to members since the previous week are in yellow above.
Bitcoin breaks out above key level of short-term resistance
Over the past few weeks, we've been discussing how Bitcoin ($BTC) has been stuck in "no man's land," chopping around indecisively in a range.
However, conditions improved over the past week and we have definitely noticed a significant change of character in cryptoland.
Although still confined within its sideways range of the past seven weeks, $BTC reclaimed support of its 10, 20, and 50-day moving averages on March 16 and was confirmed by higher volume.
Prior to that move, all three moving averages were clustered together to form resistance in the 39,000 to 40,000 area.
But now the 10, 20, and 50-day moving averages have flipped to become the new area of short-term support.
In technical analysis, a prior level of resistance becomes the new level of support after the resistance is broken.
On the daily chart of $BTC below, notice the 10, 20, and 50-day moving averages have all converged to provide support just below the 40,500 level.
Bitcoin ($BTC)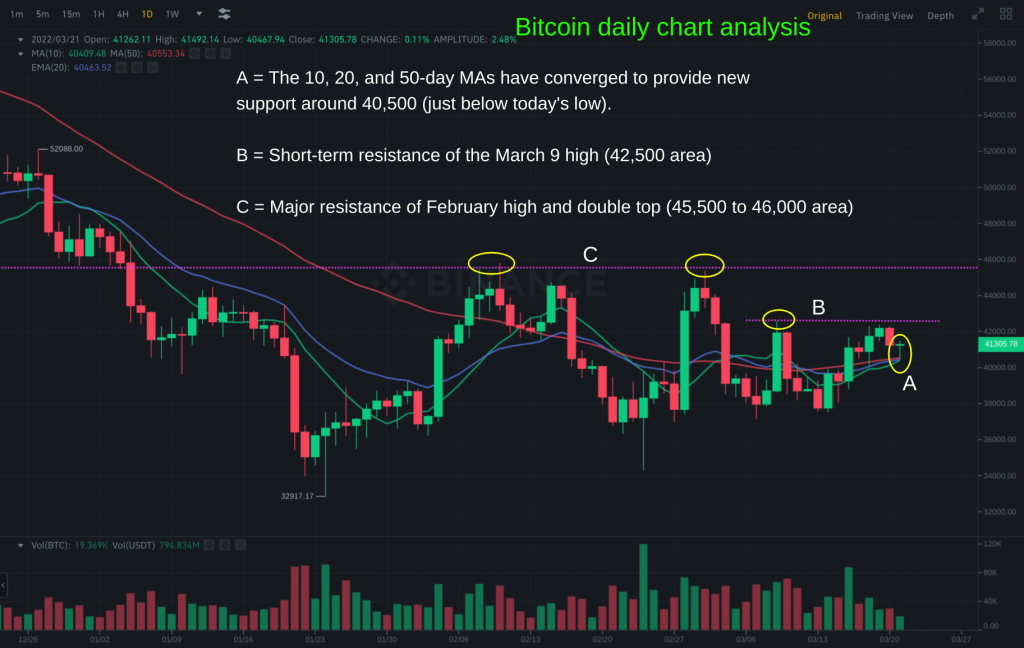 Notice how all three moving averages are now pinched together, just below today's intraday low.
It's also positive that all three moving averages are starting to point upwards.
This means the 40,500 area has now become a key, pivotal level of short-term price support to monitor for $BTC.
As for resistance, we continue to monitor for a potential breakout above resistance of prior swing high from March 8 (just above 42,500).
A breakout above that level could quickly propel Bitcoin to test major, intermediate-term resistance of its February high (45,500 to 46,000 area).
If $BTC convincingly breaks out above the 46,000 area, it would form a significant "higher high" on the weekly chart time frame.
This would also change our intermediate-term $BTC bias from "neutral" to "bullish"–but Bitcoin still has a lot of work to make that happen.
Now that the 10, 20, and 50-day moving averages have converged to neatly provide support, we have raised the stop on our existing $BTC position to just below the 40,000 area to reduce risk.
Note the new stop in the Crypto Portfolio section of the report above.
Setting up for altseason?
The improving price action in $BTC lately is encouraging.
However, we are more focused on what we are seeing in the altcoin market right now.
Hundreds of altcoins rallied above resistance of their recent base highs last week, and are now pulling back to form bull flag patterns on their daily charts.
More importantly, we have started seeing a few altcoins breaking out above resistance of their longer-term WEEKLY downtrend lines.
Check out the following altcoins that are showing leadership by breaking out above their weekly downtrend lines.
Avalance ($AVAX)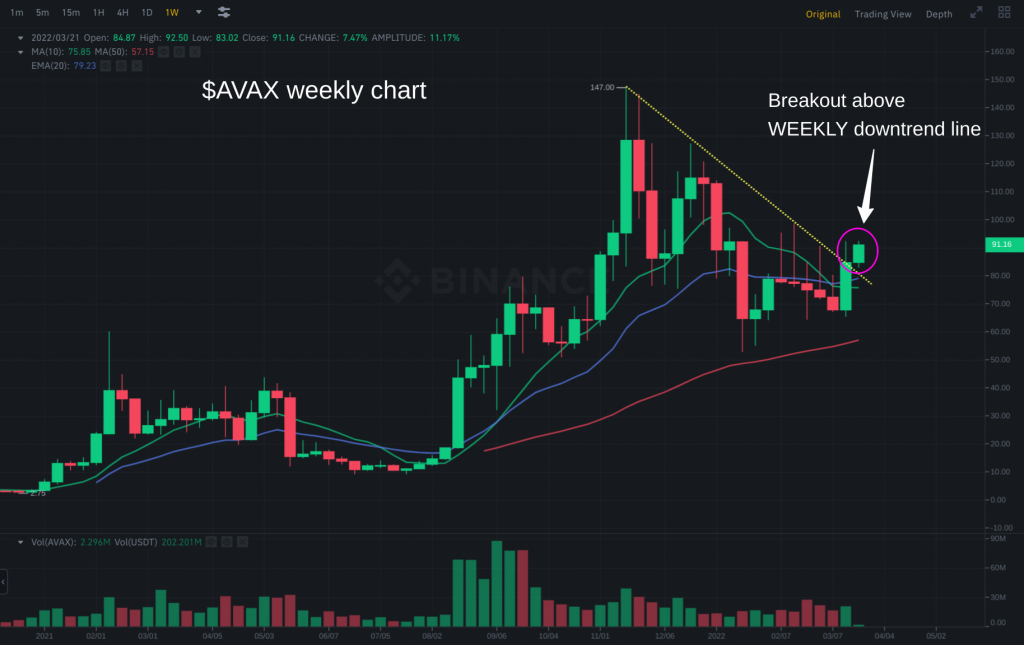 Terra ($LUNA)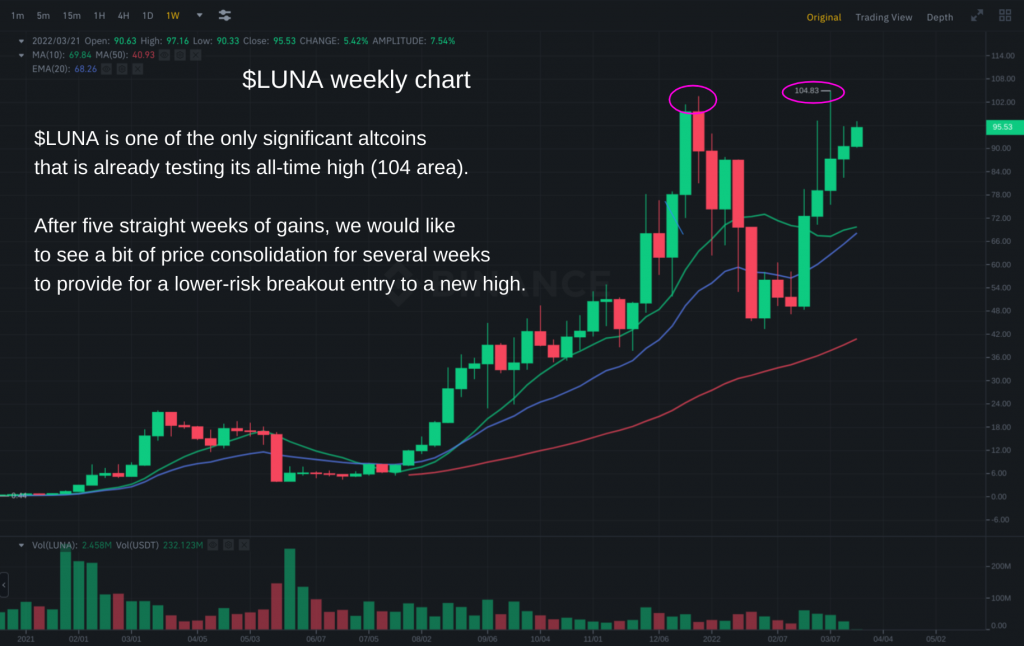 Waves Protocol ($WAVES)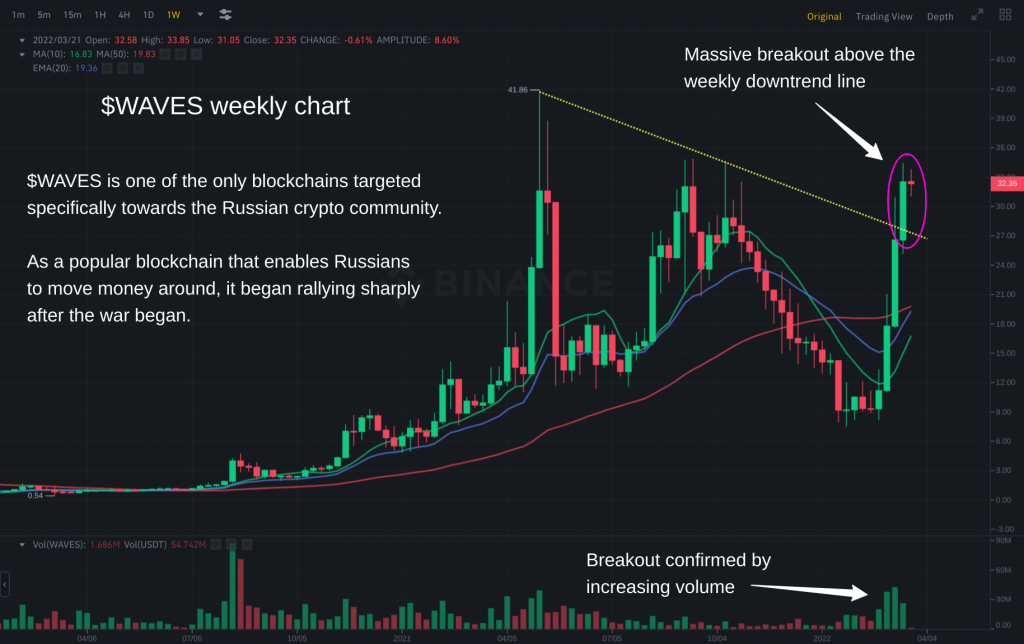 THORChain ($RUNE)
$THOR has not yet broken out above its weekly downtrend line, but has clearly been showing leadership in recent weeks: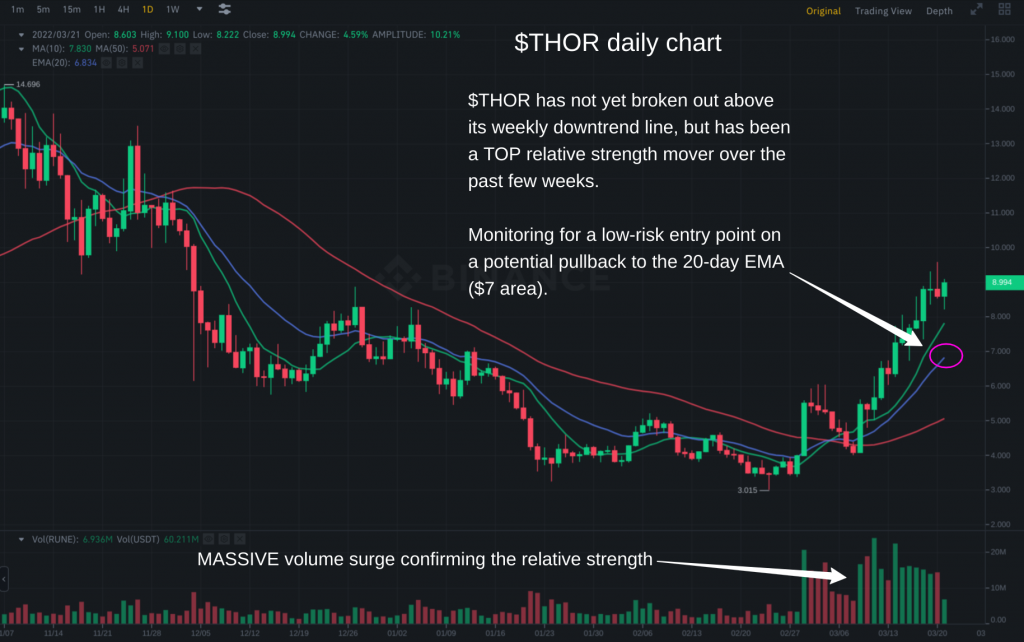 In addition to above, we are also starting to see funds rotating into the DeFi sector.
Blue-chip DeFi cryptos such as $AAVE and $COMP have been dead for many months, due in part to fear of the unknown regarding forthcoming government regulations.
However, Biden's recent Executive Order on crypto seems to have sparked a relief rally in the sector.
HERE is a list of the leading DeFi tokens to add to your watchlist.
Battle Plan
This week, we locked in a big gain of +32% with the $IMX position we bought in the Crypto Portfolio on March 11.
Currently, the portfolio is also holding $BTC, $SAND, and $CELO.
As overall market conditions continue improving, we are constantly scanning hundreds of altcoin charts for the best new trade setups with low-risk entry points.
Again, we are focused primarily on cryptos that have broken out above the weekly downtrend lines, which we may be looking to buy on pullbacks to support.
SIGN UP NOW to start receiving your winning Morpheus crypto trade signals, including a crypto portfolio you can easily follow. Morpheus Crypto PRO includes live crypto trader room for daily, real-time trade ideas and powerful crypto trading education.