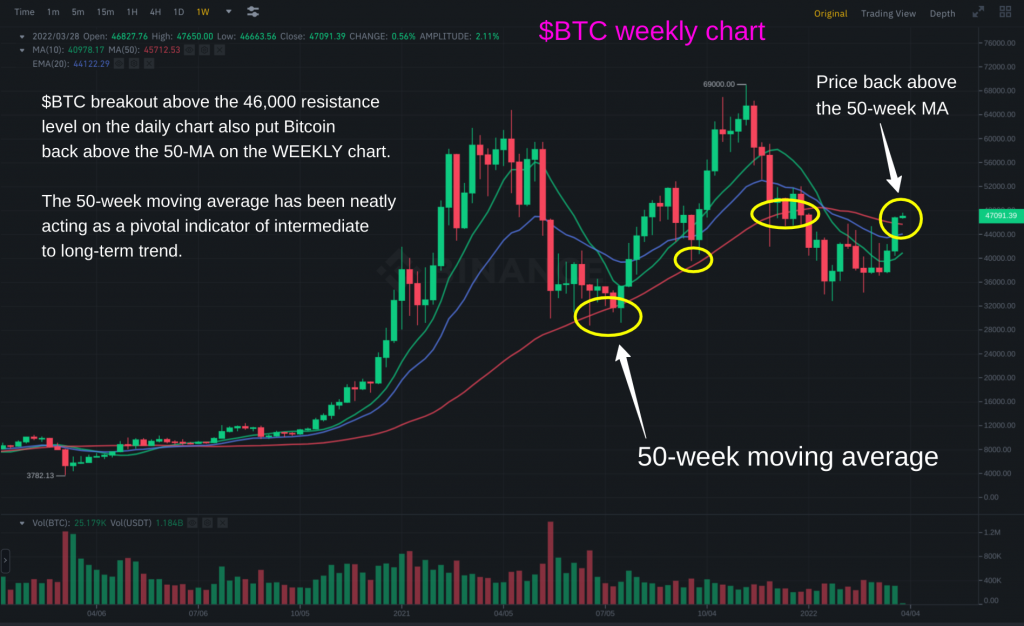 Morpheus Crypto Report – March 28, 2022
Below is the full, archived version of Morpheus Crypto Report that was sent to subscribers on March 28, 2022.
If you enjoy what you see, please join us as a Morpheus member to receive real-time access to your live crypto trader room, crypto trading analysis, crypto signals, and crypto portfolio.
Please drop us any questions or comments at the bottom of the post–we'd love to hear from you!
Crypto Portfolio
(tracks and updates all crypto signals sent to members)

New crypto signals sent to members since the previous week are in yellow above.
Bitcoin blasts above its February high
In the March 21 issue of Morpheus Crypto Report, we showed you that Bitcoin ($BTC) was testing resistance of its prior swing high from March 9 (near the 42,500 level).
We said that if Bitcoin broke out above that level, then the real test of resistance would come around the 45,500 to 46,000 level (horizontal price resistance of the February highs).
On March 27, $BTC convincingly broke out above the 46,000 resistance level, as shown on the daily chart below: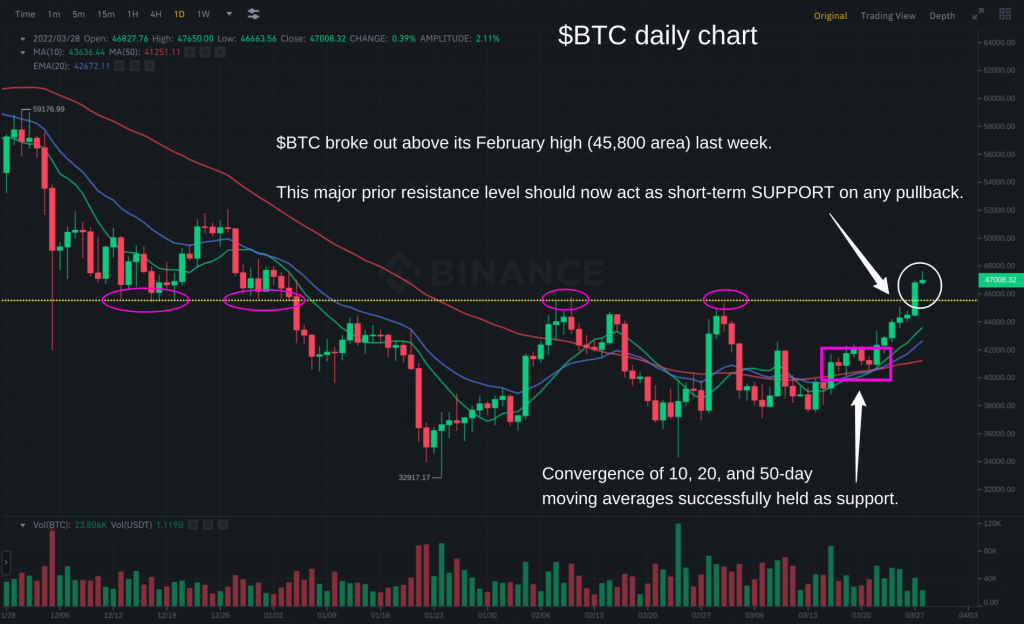 With Bitcoin's rally above its February high, it's notable that $BTC has now also formed two major higher highs and higher lows since it's January low near 33,000.
Since the 45,500 to 46,000 area was formerly a key level of resistance, this range should now act as new support on any short-term pullback.
Note that it would even be okay if the price of $BTC briefly dips below the 45,500 level–as long as the price swiftly snaps back above that pivotal support level the same day.
However, a pullback below 45,500 that does not quickly recover could indicate a failed breakout, rather than a typical stop run.
So far, there is no indication of a potential failed breakout, but it's good to be aware of this possibility.
Back above the 50-week MA
Zooming out to the longer-term weekly time frame, it's quite notable that $BTC has reclaimed support of its 50-week moving average: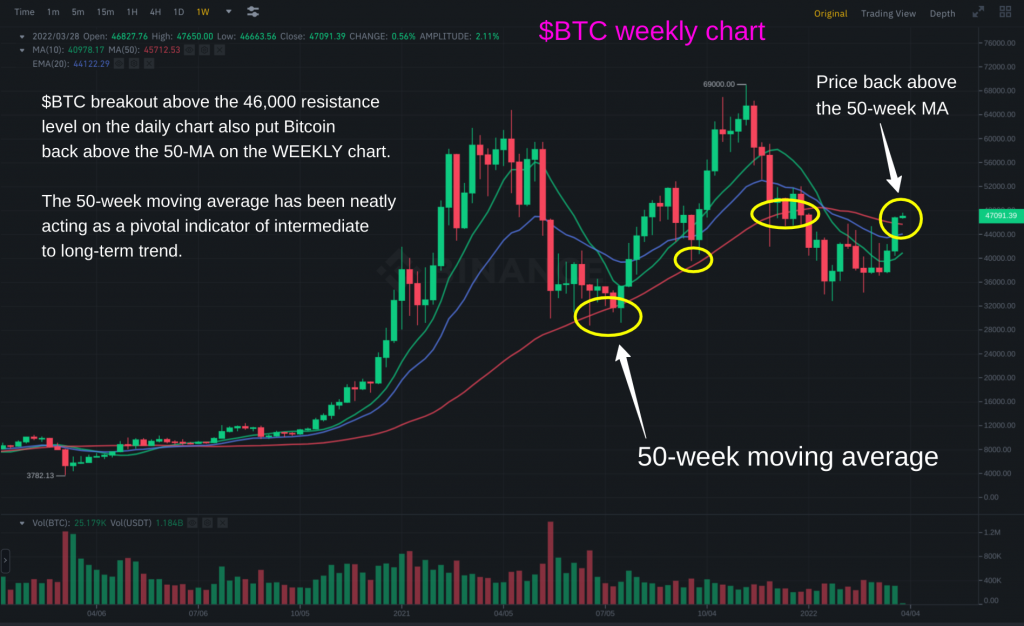 Last year, notice how the 50-week moving average perfectly acted as support each time $BTC pulled back from its highs (circled in yellow).
That 50-week MA support level eventually flipped to become the new resistance level after Bitcoin entered into correction mode towards the end of 2021.
However, the current $BTC breakout has once again put the price back above its 50-week moving average.
In the coming days, traders and investors will be closely monitoring whether or not $BTC is able to hold above that 50-week moving average.
For now, reclamation of the 50-week MA is firmly bullish and has triggered a new, intermediate-term "buy" signal in the crypto market.
Battle Plan
When Bitcoin initially breaks out above a key, closely watched resistance level, funds typically flow out of the altcoin market and directly into $BTC (which causes the Bitcoin Dominance Index to rise).
That's why $BTC was one of the first positions we bought in the portfolio after the crypto market started reversing higher in recent weeks.
Now, we are also starting to see broad-based buying momentum in the altcoin market–similar to the types of massive altcoin gains we saw throughout much of last year.
Accordingly, we have been steadily deploying our portfolio cash position to enter new altcoin swing trade setups.
Currently, the Morpheus Crypto portfolio is holding seven open positions–each of which is currently showing a gain.
After rallying for eight consecutive days, $BTC may soon pull back–or at least enter into a short-term price consolidation–to digest recent gains.
As such, we will continue trailing stops higher in our open positions to maximize profits and protect gains in case of a pullback.
As for new setups, we have been aggressively scanning hundreds of charts to look for the best trade setups with bullish chart patterns and relative strength.
Although a vast majority of the altcoin market bounced sharply over the past week, it's important to distinguish between dead cryptos merely bouncing off their lows (suitable for quick trades) and those with high relative strength that can be held longer, in anticipation of larger gains.
Be on the lookout for trade alerts to notify you of any new trade entries, exits, and stop updates in the portfolio.
SIGN UP NOW to start receiving your winning Morpheus crypto trade signals, including a crypto portfolio you can easily follow. Morpheus Crypto PRO includes live crypto trader room for daily, real-time trade ideas and powerful crypto trading education.