Updated 08.24.16
If you are a trader or investor who likes to monitor the stock market with your smartphone, you may be looking for the best stock trading apps for your iPhone or Android.
In 2013, I re-published an excellent roundup of 10 of the best native mobile and progressive web apps for monitoring stocks and options.
Since then, I have been continually updating and adding to that list.
Although this article focuses on iPhone apps, Android users are not left in the dark because I have verified that nearly all the apps listed in the article can also be downloaded in the Google Play store.
Best iPhone/Android App For Free Real-Time Stock Quotes
I remember when it cost a fortune just to receive real-time stock quotes on my computer.
Smartphones? They didn't even exist then.
But technology has incredibly leveled the playing field for individual traders, who now have access to a wealth of various trading tools at minimal or no cost.
TeleTrader, a surprisingly full-featured charting platform wrapped in the shell of an iOS or Android mobile app, enables you to easily monitor and analyze your stock portfolio on the go.
I love this app and use it every time I'm away from the office.
Oh yeah, it's free too.
Best iPhone/Android App For Trading Stocks
One mobile app not on the list below that I really dig is from top-rated brokerage firm TradeKing.com (just $4.95 per stock trade or 65 cents per option contract).
In addition to enabling you to place stock and options trades from your smartphone, the TradeKing app is fantastic for stock traders because account holders also receive free real-time quotes and advanced technical charting capabilities. Just shake your phone to refresh any screen. Very cool.
Tying with TradeKing as my personal favorite smartphone app for stock trading is eTrade. Sharing nearly the same features as the TradeKing app above, the eTrade app is fast, sleek, and efficient. eTrade is also a convenient way to buy shares in 11 global stock markets.
Best iPhone/Android App For Trading Options
If you are an options trader, you may find OptionsHouse to be the most useful of the 10 mobile apps below because of the ability to place all types of options trades on the go. However, in order to use the free app, you must first have an active options house account (click here to open a new account and trade free for 60 days).
Barron's Best
In Barron's Best Online Brokers Of 2013, the highest score for best overall mobile app was awarded to tradeMonster (which also has a promotion to trade commission-free for 60 days
). I personally am not yet familiar with their app, but Barron's magazine is a very reputable and trustworthy source. I'll be checking it out soon.
Best Android App For Binary Options Traders
Although I personally trade only stocks and ETFs, I know that binary options trading has become extremely popular with traders in recent years because of the low amount of starting capital required, the ability to only determine whether a trade will go up or down, and the instant gratification of knowing whether or not your binary option trade is a winner within a matter of minutes.
Most of the apps for binary options traders are simply for executing orders on a broker's platform. But one app I find quite interesting, useful, and profitable is Binary Signal App for Android.
Providing live FOREX binary option trade signals of both a 5 and 15-minute trade duration, this app enables binary option traders to instantly receive push notifications of the best technical trade signals, based on a robot that has been tested to return an average win rate of approximately 70% (according to the company).
10 of the Best iPhone Apps For Monitoring Your Stocks and Options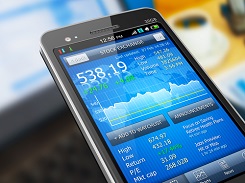 Managing your investments can feel like a full-time job, especially in an economic climate that's still struggling to rebound and that's fraught with uncertainty. Thankfully, the mobile device in your pocket can prove to be a valuable investment on its own, and can be a powerful financial planning and investment management tool. These 10 apps can transform your iPhone from a mobile device into your own personal stock analyst, making a real difference in the way that you keep up with your stock options.
Original Source: 10 OF THE BEST IPHONE APPS FOR MONITORING YOUR STOCK OPTIONS
Are there any financial apps not mentioned above that you really like?
I would like to keep a continually updated and fresh list of the best smartphone apps, so please help by sharing your input in the Comments section below.